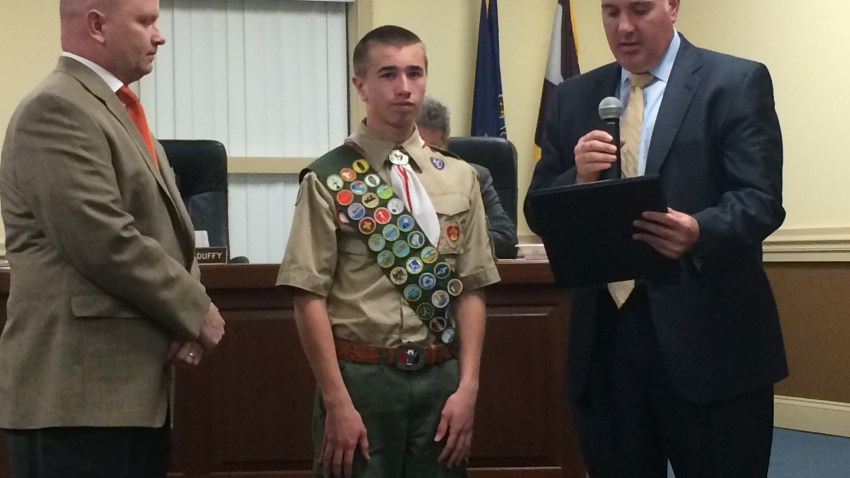 Thanks to his work at Eagleville Park, the Lower Providence Township Board of Supervisors recently recognized Evan Cost, of Troop 119, for his obtainment of the Eagle Scout rank with the Boy Scouts of America. Cost is a member of the Lafayette District, in the Cradle of Liberty Council.
Cost created a project to build two picnic tables, four birdhouses and four bat boxes in the park, a project the supervisors called "impressive."
"They are placed throughout the trail, all around and they look pretty good if I do say so myself," said Cost during the April meeting of the LP supervisors. "I hope the are inhabited soon."
Local
Breaking news and the stories that matter to your neighborhood.
Supervisor Patrick Duffy joined the Lower Providence Township Parks and Recreation Department's Karl A. Lukens to offer thanks to Cost on his hard work.
"We would like to congratulate him on his achievement of Eagle Scout, the highest honor of the Boy Scouts," said Duffy.
Cost was grateful to have a worthy place in which to do his project.
"I'd like to thank the township for letting me do it here, so that I could get my Eagle Scout rank, and to thank my parents for getting me there, too," said Cost during his presentation.
---
This story was published through a news partnership between The Alternative Press of Lower Providence and NBC10.com