A driver who police say struck and killed a crossing guard with his vehicle was arrested for allegedly driving with a suspended license.
Police announced the arrest of Duane Bennett, 42, of Cream Ridge, New Jersey. Police say Bennett was driving his Chevy Avalanche northbound on Route 129 in Trenton Monday at 3:19 p.m. when he struck a crossing guard who was walking across Route 129 at Lalor Street. The crossing guard, identified as 56-year-old Antonio Wiley of Trenton, died from his injuries.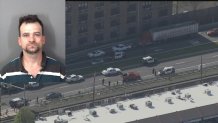 Police say Bennett was driving on a suspended license at the time of the crash though they have not yet revealed what the initial suspension was for. Both Trenton Police and the Mercer County Prosecutor's Office are investigating the incident.