Lee la historia en español aquí.
Officers responding to a crash that left a teenage pedestrian dead in West Philadelphia found the possibly intoxicated driver not wearing any pants while behind the wheel of a stolen SUV, Philadelphia police said.
The force of the high-speed crash along North 44th Street just before 11 p.m. Wednesday knocked James Saunders out of his sneakers as he was dragged about 100 feet, Philadelphia Police Chief Inspector Scott Small and police investigators told NBC10.
"I'm hurting inside. It's unbearable pain," his mother, Tasha Dickinson said as she recalled through tears how she saw her son badly injured in the middle of the street.
The 16-year-old died a short time later at the hospital, Small said. Saunders lived just blocks from where he was struck and killed. Neighbors described him as a good kid who stayed out of trouble.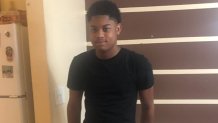 A 21-year-old pedestrian was also struck and left injured with a broken ankle, police said. He was hospitalized in stable condition.
Local
Breaking news and the stories that matter to your neighborhood.
Both Saunders and the man were in the crosswalk of Lancaster Avenue when they were struck, police said.
Small said first responders found a man in his 20s in the driver's seat of a 2015 Toyota Highlander SUV in an "unusual" state.
"When they took him out of the vehicle he was completely naked from the waist down," Small said.
The driver was taken to the hospital for treatment for bumps and bruises, Small said. The man appeared to be impaired. Police said he was under arrest.
Investigators overnight pieced together details of the crash.
The SUV driver was driving along North 44th Street when he first struck the 16-year-old and then struck the 21-year-old in the crosswalk at Lancaster Avenue, police said. The SUV driver then crashed into at least three parked cars along 44th Street toward Parrish and Reno streets.
Police later found out that the crashed SUV was reported stolen from Cheltenham Township in neighboring Montgomery County, less than an hour earlier, investigators said. The owner of the stolen SUV, who we are not identifying, shared video of the suspect stealing his vehicle.
"Walked to the back of the house, saw the Ring camera light go on and then my Highlander pulling off," the man said.
The man's wife called police to report the stolen vehicle. They later found out about the boy's death.
"My heart goes out to the family," the man said. "What can we do? Crazy city right now."
The suspect was awaiting criminal charges to be filed against him in both Montgomery and Philadelphia counties.
For Dickinson, her life will never be the same after losing her son.
"I couldn't help him. I just want him to come back to me. Please come back, Jay. Please come back," she said.