Drilling operations on the embattled Sunoco Mariner East 2 Pipeline have been allowed to resume in 16 of 55 locations, according to a ruling issued Friday by a Pennsylvania environmental judge.
The order came down less than two weeks after the state Environmental Hearing Board halted horizontal directional drilling associated with pipeline construction after residents complained their water supply was tainted with non-toxic bentonite clay.
A hearing is set for Wednesday to determine the future of pipeline construction throughout Pennsylvania.
Last week, Chester County residents gathered during an emergency preparedness meeting to discuss worst case scenarios should the pipeline spill or explode. Some attendees called the 350-mile project "horrifying" while others questioned their ability to detect spillage of a colorless and odorless liquid.
Mariner East 2 will carry natural liquid gas to a refinery in Delaware County along an existing corridor previously built for Mariner East 1 Pipeline. Sunoco estimated the combined projects will generate 15,000 jobs a year and contribute $62 million in taxes over the two-year construction period.
Local
Breaking news and the stories that matter to your neighborhood.
"These projects will sustain 300 to 400 permanent jobs and contribute at least $100 million annually to the Pennsylvania economy," the company said on its website.
Mariner East 2 will run through portions of Pennsylvania, West Virginia and Ohio.
On Thursday, Gov. Tom Wolf called pipelines essential for living "the life we want to live." The Sierra Club countered by demanding a full stop of construction citing environmental concerns.
"We demand that the governor halt construction of the Mariner East 2 and all other pipeline projects in the state until a full environmental review of these projects and related gas infrastructure has been completed as required by the Pennsylvania State Constitution," the environmental group said a statement.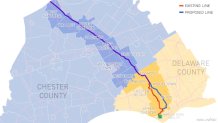 Sunoco told NBC10 on Wednesday that it is committed to building a safe pipeline.