Drilling operations for the 350-mile Sunoco Mariner East 2 Pipeline that would run through several states and 17 Pennsylvania counties must stop until early August, according to an order issued Tuesday by the Pennsylvania Environmental Hearing Board.
The order impacts 55 locations in Pennsylvania using horizontal directional drilling, a method of tunneling under waterways and through other blockages.
In a seperate action, the Pennsylvania Department of Environmental Protection (DEP) announced accountability actions against the same pipeline in West Whiteland and Uwchlan townships, Chester County. DEP said it will conduct an independent investigation into contaminated water supplies for some 14 homeowners in the county.
"DEP continues to be diligent in our oversight of this project," DEP secretary Patrick McDonnell said. "To impact a person's private drinking water is inexcusable, and we intend to hold this operator accountable to the fullest extent."
The pipeline would carry natural gas liquid from Ohio and the Pittsburgh area to a facility in Marcus Hook, Delaware County.
Natural gas liquid includes propane, ethane, butane and natural gasoline that can be used for heating, cooking and filling up motor vehicle gas tanks.
Tuesday's ruling comes after a leak at the Delco site caused thousands of gallons of drilling mud to flow into Chester Creek in Middletown Township, Pennsylvania.
Local
Breaking news and the stories that matter to your neighborhood.
The mud, which consisted of potable water and non-toxic bentonite clay, entered a tributary of the creek near the pipeline.
"Residents living along the route of the pipeline have been assailed over the last few months by drilling spills and damage to water wells and water quality due to Sunoco's reckless drilling," said Joseph Otis Minott, executive director and chief counsel for the Clean Air Council, one of three organizations that petitioned to halt drilling operations associated with pipeline construction.
"Today's decision provides residents with much-needed protection over the next two weeks."
The temporary order expires Aug. 7 unless the Environmental Hearing Board extends it.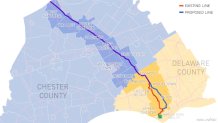 More than 80 percent of this pipeline will follow the same corridor as the existing Mariner East 1 project, which was completed in late 2014. It will have an initial capacity of approximately 275,000 barrels a day. The pipeline will be 20 inches in diameter.
Plans for Mariner East 2 span more than 23 miles in Chester County and more than 11 miles in Delco. The $2.5-billion project winds through portions of Delaware, Pennsylvania and West Virginia.
"Despite this ruling and unfortunate delay on some construction, work will proceed on a majority of the pipeline throughout Pennsylvania where drilling is not required," said Kurt Knaus with the Pennsylvania Energy Infrastructure Alliance.

Pennsylvania's DEP issued permitting in February, but the pipeline has been riddled with controversy since the beginning.
Most recently, a judge granted an injunction to halt construction in West Goshen Township after officials accused Sunoco Pipeline LP, a subsidiary of Sunoco Logistics LP, of violating a settlement agreement. A spokesperson for West Goshen claimed Sunoco started construction to install and operate the pipeline near Greenhill and Boot roads without notifying local officials.
Last week, 1,500 gallons of bentonite clay leaked into the Chester Creek in Middletown Township. Members of the Middletown Coalition for Community safety asked local officials for a meeting with community leaders, Sunoco representatives and the state environmental agency.
Sunoco promised to rigorously test all pipes and monitor operation in real time.
"Certified controllers closely watch the pipeline's pressure, temperature and flow, 24 hours, 7 days a week from a control center dedicated exclusively to the safe operation of our pipelines, and can shut down pipeline operations remotely," the company said on its website.
Earlier this month, residents in West Whiteland and Uwchlan townships claimed the pipeline construction project contaminated their drinking water. A number of homeowners on Township Line Road, Valley View Drive, Biddle Drive and Shoen Road reported problems with low volume or muddy water.
Sunoco provided residents with clean drinking water, paid for repairs to private drinking wells and offered to put residents up in hotels. The company also offered to pay to extend municipal water mains to dozens of Chester County households impacted by pipeline construction.
"We believe that the full hearing before the Environmental Hearing Board will demonstrate that we have expended every effort to meet the strict conditions of our environmental permits," said Sunoco spokesman Jeff Shields.
"We are continually evaluating our drilling plans, and had already voluntarily suspended work on a number of our drills while working to ensure that the concerns outlined by the DEP and Gov. Wolf were addressed."
Non-drilling work like tree clearing will continue along the pipeline route.