One side of Church Street at West Chester University explodes into a chant of "We choose love."
The other side of the street responds with a chant of "If you want free education, join the Army."
The divided politics of America arrived Monday in this Chester County college town, where Republican presidential candidate Donald Trump spoke at 4 p.m.
"You vote for him, you're setting women back 50 years," said West Chester junior Nicole Whitney, 21.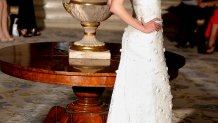 "He is promoting supporters' mean, cruel, and violent behavior. That's not what West Chester University stands for."
Hundreds lined both sides of South Church Street, with many on one sidewalk waiting in a line two blocks long to get into Hollinger Field House for the Trump speech.
Local
Breaking news and the stories that matter to your neighborhood.
Many wore Trump pins and "Make America Great Again" baseball caps.
On the anti-Trump sidewalk, a majority of the protesters were college students.
Others like George and Libby Hill, retirees from Pottstown, sat in a grassy plaza outside Lloyd C. Mitchell Hall, watching the politics in action.
Both recently switched party affiliation from Democrat to Republican so they could vote tomorrow in the Pennsylvania primary for Trump.
Libby Hall, 73, said she'd been a Democrat since she first voted - for John F. Kennedy. "This protest is nothing," she said. "We lived through Vietnam, and the Bay of Pigs."
Trump supporter, Kyle Hardin, 25, of Eddystone, came to see His choice in person. He said he hails from a military family, and likes Trump message of making America great.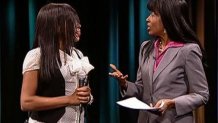 "We have fought for this," said Hardin, who added that his brother, Army Spc. Kevin Michael Hardin, was wounded in Iraq in 2007 and has since died. "I just believe everyone has to earn what they get."
His friend, Sean Roscioli, 27, of West Chester, said the animus felt along South Church Street Monday afternoon isn't necessarily a bad thing. He said he's a Ted Cruz supporter interested in hearing what the front runner Trump has to say. "Everyone's entitled to their own opinion," he said, waiting in line. "You need to have a broad spectrum of opinions."[[377018011, C]]
George Hill, 73, a former truck driver, said Trump's wildly divergent approach from Washington D.C.'s political elites is what makes him the choice of many across the country. "It doesn't matter what party you're with," the longtime blue-collar Democrat-turned-Republican said. "We gotta get rid of all these old farts."