Cloudy water with an oily film poured out of a hose at Scavello's Car Care in Exton, Pennsylvania, where Jeremy Garrison had to turn away at least three customers while he waited for his water supply to clear up.
"This is our livelihood," he said. "We need clean water to sustain our business."
Scavello's purchased a new filtration system about one year ago, but it's not enough to prevent murkiness caused by Sunoco's Mariner East 2 Pipeline, Garrison said.
Sunoco provided Scavello's with storage tanks for clean water. The business currently has 300 gallons left.
"That's about a day [of business] for us," he said.
Mark Taylor, a West Whiteland Township resident, recently plucked two dead Canadian geese from a pond near his home. He can see petroleum gas percolating into the soil, the result of a previous spill that happened in 1987, he said.
"How about getting remediation first?" he asked during an emergency preparedness meeting Wednesday night in Chester County.
Local
Breaking news and the stories that matter to your neighborhood.
He was advised to call first responders in the event of dead animals.
Meanwhile, Chester County mother Rebecca Britton, who lives just 400 feet from Mariner East 2, said her children are asking tough questions she can't answer: "Mommy, what's in that pipeline" and "Mommy, are you going to keep us safe?"
"I just really care deeply about our community, our schools and our children, our collective futures," she said. "My children are 7 and 4 [years old] and all I tell them is that mommy loves [them] very much and I'm going to fight every day to make sure our community is safe."
In a different part of Chester County, other residents have complained about a contaminated well water that became muddy with bentonite clay after construction started on the pipeline, which spans 17 counties and 350 miles through Pennsylvania, West Virginia and Ohio.
Last week, the Pennsylvania Environmental Hearing Board issued an order halting construction involving horizontal directional drilling of the pipeline at 55 locations across the state. The action was followed by the Department of Environmental Protection (DEP) issuing accountability actions against the pipeline in West Whiteland and Uwchlan townships, where 14 households complained of contaminated water supplies.
The moratorium on horizontal directional drilling could expire as early as Monday pending a hearing by the environmental board. Until then, local emergency officials urge residents to remain calm.
"The likeliness of there being a catastrophic rupture of the pipeline is small," said Robert Kagal, deputy director of emergency management for Chester County. "It's more like air travel."
A recent report by FracTracker and the Clean Air Council found that approximately 202,000 gallons of drilling fluids have been released as a result of 90 spills across Pennsylvania. FracTracker estimated the spills occurred at 42 locations, including three in Berks, four in Chester, eight in Delaware and seven in Lancaster counties.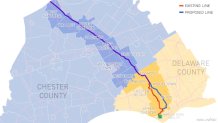 "We've seen no incidents that negatively impact wildlife or fish," said Sunoco spokesman Jeff Shields. "Inadvertent return of [bentonite] clay is part of the horizontal directional drilling process. It's why we use non-toxic clay."
Shields added that environmental disasters can be avoided provided the spill is controlled.
"We will build a safe pipeline," he said.
More than 80 percent of the Mariner East 2 will follow the same corridor as the existing Mariner East 1 pipeline, which was finished in 2014. It will have an initial capacity of approximately 275,000 barrels a day and be 20 inches in diameter.
The second pipeline was approved in February, but many residents who live along the corridor said they were never informed it would run near their homes. Many people still don't know what the pipelines contain.
"Every day there needs to be a high priority set to deal with this issue," Britton said.
Doug McCord, who lives within the blast zone, questioned how he can detect a leak if the contents of the pipeline are odorless and colorless.
Sunoco has attempted to mitigate dangers by using technology that monitors the pipeline's condition in real time, by ground and by air. Also, pipelines can be shut down remotely in the event of an emergency.
The company also offered $60,000 to 14 households in Chester County who can no longer drink from their water wells. The agreement promised two decades of coverage for residential water bills and filtration systems. It would also prevent residents from suing Sunoco for current or future damages.