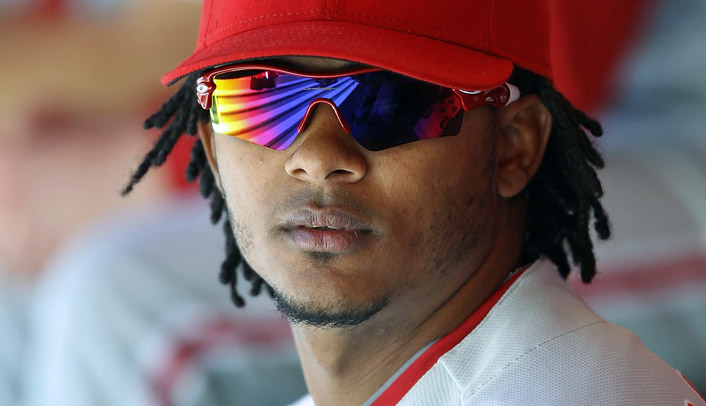 The Phillies re-signed free agent utility player Michael Martinez on Friday. Or they didn't. If there is one thing that we are certain of, it's that the utility player may or may not currently be under a contract with the organization. The confusion unfolded on Friday morning, when conflicting reports emerged regarding the apparent first move of the organization following the 2013 season.
Initially, MLB Daily Dish reported on Thursday evening that the 31-year-old was re-signed to a minor league deal with the Phillies, only a few days after electing free agency. The reaction from the fans was one of anger and disgust, and for good reason, as Martinez has been a waste of a roster spot since he was acquired in the Rule V draft from the Washington Nationals prior to the 2010 season.
In three seasons and exactly 162 games with the Phillies, the switch-hitting Martinez has a line of .187/.234/.261, with five homers in 396 at-bats. His OPS+, which measures a player's offensive value relative to the other players in the game (100 is league average), is 35. In 29 games with the Phillies in 2013, he had an OPS of -3 - that's negative three. He was somehow less valuable on offense than a player who never once stepped into the batter's box, which is nothing if not impressive, in a terrible sort of way.
Local
Breaking news and the stories that matter to your neighborhood.
But Martinez wasn't really brought on board because of his bat (at least, I certainly hope the front office didn't look at his minor league stat line prior to 2010 and decide that they must have this bat in the lineup), but ostensibly because of his versatility on defense. Martinez, for his shortcomings with the bat, can play just about every position on the field. In his tenure with the big club, he's played every position but catcher, first base, and pitcher. There is some value in having a super utility guy on your roster, because defense - as it turns out - is actually pretty important. Even if Martinez wasn't a great defender, at least he gives the Phillies some options late in the game.
Defensive utility aside, he's just not a good player, so there wasn't much reason to have him around, even if it was just on a minor league deal. Especially when there are players in the system who are more deserving of a roster spot. Like Jermaine Mitchell, for instance. The 28-year-old outfielder, who was drafted in the 5th round by the Oakland Athletics in 2006, has never played an inning above AAA. That, despite having a solid OBP in the minors (.376), a bit of power, and good speed. His skill set provides infinitely more value to the Phillies than Martinez's, who wasn't half the player Mitchell was in the minors.
Fast forward to Friday morning, when Phillies beat writer Kevin Cooney tweeted that the Phillies did not re-sign Martinez, and that the earlier report is false, effectively pulling many a fan back from the proverbial ledge. Good thing, too, because if the Phillies really are evolving into an organization that is going to take a more analytical approach to their roster, then they really shouldn't even considering signing someone like Martinez.
So, for now, it appears that Martinez is not back with the Phillies. Or maybe he is. Ruben Amaro has not commented on the matter, but given his history of misdirection, this might just be the world's worst attempt to drive up the value of a player who, by rights, should never see another inning above AAA. You can never really tell with Ruben. At any rate, the Michael Martinez watch is in full effect, which is pretty much exactly how you'd expect this off-season to go for the Phillies.