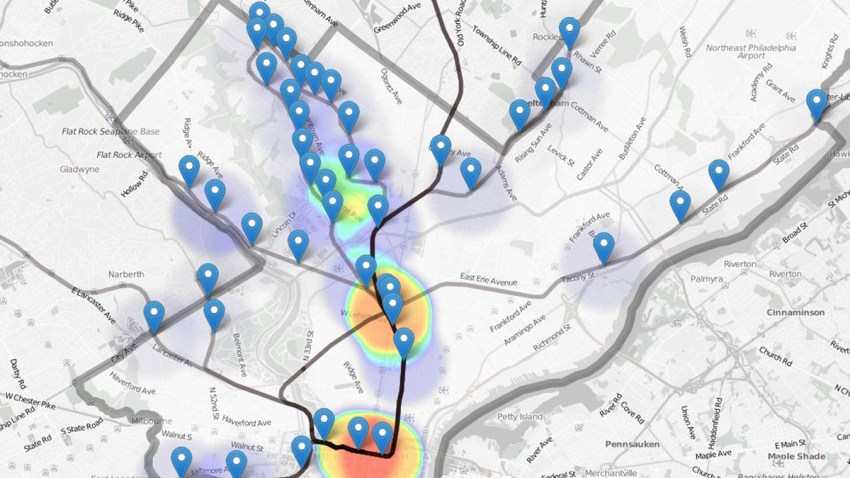 Hoping to empower mass transit riders to know where crime is happening along their commute, web developer Jim Smiley created a heat map to show where criminals have struck most over the past five years.
"When you put crimes on maps in interesting ways, you can empower and inform city residents who can then tell their politicians what they want, as in, 'I want this area here to be safer,'" he said, adding that the project was part of a test to determine the best ways to show such information to the public.
Using major crime data released by the Philadelphia Police Department and SEPTA from 2007 through this October, Smiley narrowed down the crimes to those that took place at and within a block around SEPTA regional rail stations in Philadelphia.
Local
Breaking news and the stories that matter to your neighborhood.
He then plotted those locations on a map and overlaid them with colors – blues for a lower number of crimes, red for high crime areas and yellows and greens for those in between. The crimes included are homicides, rapes, assaults and robberies.
As expected, the highest number of crimes are in the highest trafficked areas like SEPTA's transit hubs at Market East and Suburban Station in Center City. But using the map, users could see how the number of crimes ebb and flow as trains traverse different neighborhoods.
Looking at the Trenton line, which runs from Center City through Northeast Philadelphia before crossing into New Jersey, crimes over that five-year period drop from 41 instances at the Bridesburg stop to five at the Holmesburg Junction stop and up to nine in Torresdale, according to the data used.
Following the Manayunk-Norristown line, there are 61 violent crimes at Temple University, 11 in East Falls and 52 at the Manayunk stop.
Because the map is part of a test, it is limited.
Users are unable to break down the data by specific years or by the type of crime. One stop could have seen a lot of violent crimes in 2007, but through policing, officials might have knocked back that number. However, a user would have no way of knowing about those efforts.
Smiley says he hopes to expand the data offered to map every single rail and bus stop in Philadelphia – and keep it updated with the latest information.
"For any crime maps to be useful, you need to have the latest crime data on it, so I hope to keep it updated," he said.
As for SEPTA, the transit authority's top cop welcomes Smiley's mapping test and would be happy to see it expand to all stops.
"I love mapping. I think it gives people a visual aid in understanding where crime is most prevalent," said SEPTA Police Chief Thomas Nestel. "I would be in complete favor of having such a project done. It is also something that we use in policing to assist us in identifying historical problem areas and newly developing hot spots."
---
Contact Vince Lattanzio at 610.668.5532, vince.lattanzio@nbcuni.com or follow @VinceLattanzio on Twitter.