Seeing 13-year-old Mo'ne Davis grace the cover of Sports Illustrated generated an outpouring of support for the ace pitcher and the Taney Dragons from across the country. But, 40 years ago, the Little League teams would not allow female athletes to play -- a policy a 9-year-old Delaware County girl fought in 1972.
Joanne Glusman was a natural athlete as a child, always doing the same activities as her older brother and playing a lot of sports, including baseball.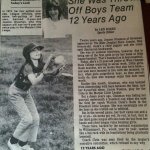 "Our friend's family lived a block or so away, and his father was the coach of the local Little League team," Glusman says. "One day I practiced with them, and coach said that I was good. He asked me to join the team then and there."
For Glusman's first game with the Broomall Little League, her coach told her to tuck her waist-length hair into her hat, but she had no idea why. At the next game, she let out her hair, drawing mixed reactions from spectators.
"My first game they commented that I played pretty good," Glusman said. "My second they commented that I was a girl."
Local
Breaking news and the stories that matter to your neighborhood.
For her third game, Glusman stepped into the batter's box, but never unleashed her swing. The League's commissioners stopped the game and pulled her coach aside.
"My coach came over to me and explained to me as nicely as you could explain to a 9-year-old that I wasn't allowed to play," Glusman said. "That girls weren't allowed in Little League."
The standing rule, known as the "Tubby Rule," is named for Kathryn "Tubby" Johnston, a 13-year-old girl who disguised herself as a boy in 1950 so she could tryout for the New York King's Dairy Little League Team. Soon after making the team, she revealed she was a girl to her coach. Johnston was allowed to finish the season before the League banned girls from playing.
"The League came up with physiological reasons for why girls couldn't play, such as slower reaction time or shorter arm length," Glusman said. "None of that made sense to me."
"I just knew I wanted to play," she said.
Once Glusman was forced off of the team, her mom called the local news stations to help get her daughter back on the field.
"One day my mom pulled me and my brothers out of school early, and when we got home there were news vans parked outside of my house," she said.
Glusman's ousting was featured on the front page of The Sunday Bulletin, the main newspaper for her hometown of Broomall, Pa. Her story continued to gain attention, eventually getting picked up by the Mike Douglas Show.
"Mike Douglas called my house and I picked up the phone," Glusman said. "He said he would love to have me on his show, and I said 'Well, I have to ask my mom.'"
Despite the attention, Glusman was unable to get the League to change its rules.
"[The League] took my jersey when they told me I couldn't play," Glusman says. "But the coach's son gave me his so I could have one to keep."
That red T-shirt -- bearing the logo of her team the "Reds" -- proudly hangs on Glusman's wall beside her old glove.
The "Tubby Rule" was revoked in 1974, allowing girls to join Little League. Forty years later, Glusman says a lot of progress has been made.
"I go and watch my nephew play baseball and I'll see girls on some of the teams," Glusman says. "I cannot even verbalize the feeling of seeing girls play, to see both boys and girls just playing and enjoying themselves. It's a really cool thing to see before your eyes."
Glusman has been following the story of Mo'ne Davis, the first Little League player featured on the cover of Sports Illustrated.
"Watching her story is heartwarming," Glusman said. "It is amazing to see the sense of community surrounding her…that the country is embracing and supporting her. It would be cool to be able to meet her and congratulate her one day."
For Glusman, seeing Davis' success makes her struggles as a 9-year-old trying to play baseball all worth it.
"It is cool to know that you are a part of history and in some small way a part of the experience for this girl."