A memorial will be held Sunday for a 16-year-old girl who died following a fight with other girls at a Wilmington, Delaware high school.
Loved ones of Amy Joyner-Francis are invited to offer condolences to her family on Sunday, May 1 between 5 p.m. and 8 p.m. at St. Paul UAME Church on 3114 N. Market Street in Wilmington. Family members say there will be no viewing during the event and all other services will be private.
Howard High School of Technology, where Joyner-Francis attended, is also holding two meetings for parents in the wake of her death.
Howard High School of Technology principal Stanley Spoor notified parents of the meetings in a recorded phone message Sunday. The school is breaking up the meetings by grade, with meetings on Tuesday and Wednesday nights at 7 p.m. They will be for parents only, Spoor said.
The school has been inundated with calls from concerned parents after Joyner-Francis died following a fistfight in the girl's restroom Thursday morning.
Police are investigating the fight and death and would not comment on Monday about whether they plan to file charges.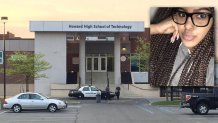 Joyner-Francis complained of head and chest pain after the fight in the school's first-floor women's room. She lost consciousness, police said, before EMS arrived. A school resource officer performed CPR until medics got there. Joyner-Francis was flown to a nearby hospital where she died.
Local
Breaking news and the stories that matter to your neighborhood.
Students held several vigils for their friend and classmate who they described as a peacemaker and caring person.
A small memorial service was held outside school Monday morning by students as they arrived for class.
School officials have yet to decide when they would hold a school-wide memorial service for Joyner-Francis, Spoor said.