In just two years, five people have contracted infections due to flesh-eating bacteria while crabbing or eating crabs from the Delaware Bay, according to a report in the Annals of Internal Medicine.
The recent infections mark an uptick in such cases. Between 2009 and 2016, only one case of infection from Vibrio vulnificus was reported. But five cases were reported between the summers of 2017 and 2018, according to the study.
People contract bloodstream infections from Vibrio vulnificus when they break skin, or they can get intestinal infections when they consume shellfish.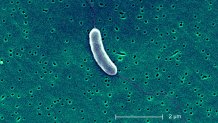 These infections could cause extreme swelling, blisters, necrotic muscle tissue and, in one of the Delaware Bay cases, death.
People at highest risk for infection are those with compromised immune systems, according to Dr. Katherine Doktor, report co-author. This includes people with liver disease, diabetes, chemotherapy patients, people who had transplant surgery or anyone taking a drug that effects their immune system.
"We don't want people to think they will get the infection just by going into the water," Doktor said. "These people with risk factors are more likely to develop a severe infection."
Local
Breaking news and the stories that matter to your neighborhood.
In one incident from July 2018, a man who went crabbing in the Delaware Bay and ate the crabs had both his legs and arms amputated to stop the bacteria from spreading.
Angel Perez, who was 60 at the time, went on a crabbing trip to the Maurice River in South Jersey. The next day, he noticed a skin rash and swelling.
"It got worse. He started to swell up. You started seeing color change, blistering," his daughter, Dilena, told NBC10 on July 10, 2018. "He was hallucinating at one point."
The infection cost him parts of all his limbs. It was likely caused by the bacteria entering his bloodstream through an open wound, according to Perez's doctor.
Warming water temperatures could be to blame for the increase of infections, according to Doktor and her fellow authors.
Flesh-eating bacteria live in brackish, high salinity waters that are above 13 degrees Celsius. The bacteria are typically found along the southeastern coast of the United States and rarely in the cold water of the Delaware Bay.
An increase in local water temperatures over the past three years may be associated with the increase of flesh-eating bacteria infections, according to the report.