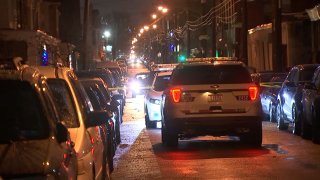 What to Know
A gunman died after being shot by Philadelphia police in the Kensington neighborhood early Christmas.
Police say the gunman fired into a crowd of people and officers returned fire. Two teenage boys were shot by the gunman, one of them died.
The circumstances of the shootout were under investigation Friday morning.
Philadelphia police officers shot and killed a gunman who they say was firing into a crowd during an early Christmas shooting that left a teenager dead and another boy hurt.
Two uniformed officers responded to a report of a fight between neighbors on the 3300 block of Emerald Street in the Kensington neighborhood around 12:20 a.m. Friday, Philadelphia Police Sgt. Eric Gripp said.
As the officers attempted to diffuse the situation, additional family members came out of their homes and formed a crowd -- Gripp estimated there to be 10 to 15 people involved -- in the street, police said. People then began to throw punches and push each other.
As the officers tried to break up the fight, a 43-year-old man who had emerged from a nearby home, took a handgun out of his waistband and began firing gunshots into the crowd, investigators said.
Two boys, ages 15 and 17, who were in the crowd were struck by bullets in their necks, investigators said, while noting those shots came from the gunman.
The officers both then returned fire, striking the gunman several times, police said.
Local
Breaking news and the stories that matter to your neighborhood.
Police rushed the two teens and the gunmen to the hospital where the gunman died.
The 15-year-old boy gunshot victim also died at the hospital, police said. The 17-year-old was hospitalized in stable condition.
Neither officer involved was injured.
"This was a terrible tragedy... we are just praying for everyone involved," Gripp said. "We mourn the lives that are lost but we are also incredibly grateful that our officers are safe this morning."
Officers recovered a 9mm Smith & Wesson handgun they believe the 43-year-old gunman used from his hand at the scene, police said. The gun was reported stolen from Virginia.
There are additional resources for people or communities that have endured gun violence in Philadelphia. Further information can be found here.