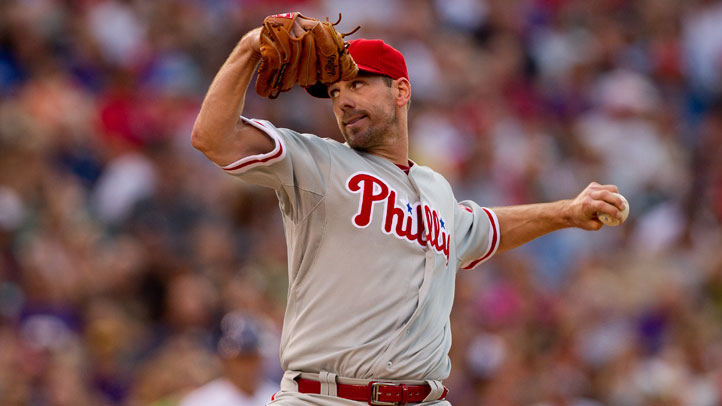 Baseball's trade deadline has come and gone, and unlike year's past, the Phillies remained quiet, and were not involved in any trades leading up to Wednesday afternoon's 4 PM deadline. Typically, July has been among the busiest months of the year for the Phils, but General Manager Ruben Amaro was uncharacteristically inactive this time around.

Over the past few weeks, we've been talking a lot about the deadline, and how the Phillies posses a number of players that could be leveraged in trades to help rebuild the farm system. Between Michael Young, Kyle Kendrick, Carlos Ruiz, Chase Utley, and Jonathan Papelbon, they could have done quite well for themselves.

However, aside from some rumors surrounding a possible blockbuster trade that would have sent Cliff Lee to the Boston Red Sox, nothing happened. The Phillies never seemed interested in moving Kendrick or Ruiz, and they are actively working on an extension with Chase Utley. And despite Papelbon's comments over the weekend, the market for closing pitchers didn't go anywhere.

The reason? Demand.

It's the one thing the Phillies had last year that they seemed to be in short supply of this year. Unlike 2012, there wasn't a big market for the players that they were looking to trade. Last season, that demand, however slight, led to trades of Hunter Pence, Shane Victorino, and Joe Blanton. Unfortunately, no one felt compelled to knock on Ruben Amaro's door.

That's the opposite of what happened this year. While the Phillies did have a handful of players that other teams would want, no one seemed to want them. The thing about trades is that it's a two-way street, and you can only move a player if another team is willing to participate. The rumblings about the Boston Red Sox wanting to trade for Cliff lee never materialized, mostly because they were able to trade for Jake Peavy without giving up a ton. It's not that Cliff wasn't a hot commodity, it's just that the demand wasn't there to help drive up the price. Had other teams been in the hunt, then maybe Lee would be pitching elsewhere.

The most surprising part of the deadline, for me, was that Micheal Young wasn't traded. That he had a no-trade clause didn't help matters, but in the end, both the Boston Red Sox and New York Yankees had interest, and Young would have been willing to waive his NTC in both instances. Perhaps it was too late to put something together by the time that came around, but nothing ever came of it.

And while it is very easy to suggest that Amaro failed at the deadline, the truth is that he actually did pretty good for himself by not jumping the gun and making a trade that would have brought a less-than-optimal return. Just because you have a player that you can trade doesn't mean that you should trade him. Making a bad trade is better than making no trade at all.

That doesn't mean that trades still can't (or won't) happen. Even though Wednesday was the non-waiver trade deadline, players can still be traded after they pass through waivers. It's a slightly more complicated process, but players like Lee and Jonathan Papelbon will have no trouble passing through waivers, so there is a chance they can still be moved.

Although the first trading deadline has passed, there is still another month left for team's to maneuver to strengthen their rosters as they make a run for the playoffs. Hopefully, Amaro and the Phillies can play a bigger role in that in August than they did in July.