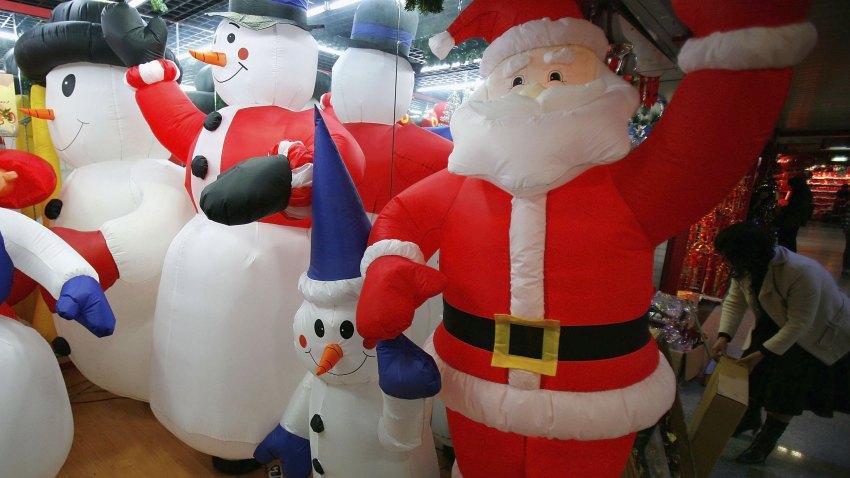 Editor's note: NBC10.com's Brian X. McCrone is following two delegates at the Democratic National Convention as they navigate the city and the "raucous" convention floor, as one called it. Check back throughout the afternoon and evening for updates on Matthew LaRonge of Wisconsin and Jené Jackson of Colorado.[[388311482, C]]
Tuesday Evening - Votes Tallied, Protests Begun, Apologies Sought
After nearly seven hours on the floor of the Wells Fargo Center on Day Two of the Democratic National Convention, Matthew LaRonge wasn't happy.
Local
Breaking news and the stories that matter to your neighborhood.
His candidate, Bernie Sanders, who LaRonge represented as a delegate from Wisconsin, officially lost to Hillary Clinton two hours earlier. And within the last hour, dozens, perhaps hundreds by some estimates, of Sanders delegates walked out in protest.
LaRonge wasn't one of them. Instead, he stayed behind and put up a motion for the DNC's party leadership to apologize onstage about Democratic officials' emails exposed by a Wikileaks release last week.
"I have filed twice now with the party," he said, standing in front of the 90-plus Wisconsin delegates' seats. "That Wikileaks showed the DNC was actually working with the Clinton campaign, which is illegal," he said, All they basically gave so far is a nonchalant apology on a blog online that no one is going to read."[[388333892,C,600,554]]
LaRonge is not a "Bernie or Bust" delegate, but on the second evening of his first political convention, he looked like a hardened political operative.
Would he run as a delegate for the 2020 Democratic National Convention? He said it depends on one big factor.
"If there is another progressive candidate that excites me, maybe, sure," he said. "But I need to know who the candidate is."
Two days into his first convention, the 20-something married man from Plover, Wisconsin, now knows who the 2016 candidate is -- and he hopes her party apologizes for its behavior leading up to this political gathering.
"An apology would go a long way," he said, as he waited for Bill Clinton to take the stage.
Well, wait might be a strong word.
"I don't even like Bill Clinton," he said.[[388333862,C,600,698]]
Tuesday Afternoon
At 2 p.m., LaRonge hustled into the Marriot Downtown to meet a waiting reporter. He'd missed a workshop he hoped to attend at 1 p.m. Instead, he and other Bernie Sanders delegate whips were trying to track down a rumor that all of Vermont's Sanders delegates were changing their votes to Hillary Clinton.
Within minutes, he was getting on a subway at City Hall Station, but he wasn't done wondering about the Vermont delegation.
"Have you heard anything about Vermont delegates giving their votes to Hillary?" He asked other delegates on the subway ride south to the Wells Fargo Center. He would arrive by 2:30, more than an hour and a half before the 4 p.m. "Gavel Drop" to begin the day's convention proceedings.
(Reporter's note: As of 4:20, the gavel had yet to drop.)
About 45 minutes after LaRonge entered the arena, Jackson and two delegate friends from Colorado arrived at the arena. Jackson, her roommate Angelina Hagan, and another delegate ran into Lena Dunham, the creator and star of HBO's "Girls," within moments of entering.
They found the entrance to their delegation seats on the arena floor, and joined LaRonge in the scrum of an eventual 4,000 delegates - though only a fraction had yet to arrive.[[388311332, C]]
Tuesday Early Afternoon
LaRonge and Jackson officially cast their vote for Bernie Sanders a couple hours earlier at their delegation breakfasts. The results will be announced later this evening on the floor of the convention.
"It was very emotional," Jackson said. "It's what we've been waiting for."
She said the entire time in Philadelphia has been emotional, including the first day on the floor, when she said she uncharacteristically lost her cool at one point during an argument with a Hillary Clinton delegate from Colorado.
She saw him this morning at the breakfast.
"It was an intense breakfast, honestly," she said.[[388285762, C]]
After a visit to the La Colombe coffee shop across from City Hall in Center City, the Colorado Springs mother of three headed back to her room for a short nap at Embassy Suites hotel on the Ben Franklin Parkway. She'll be catching a bus or subway down to the Wells Fargo Center for day two of the convention at about 3 p.m.
LaRonge, a Sanders delegate representing the 3rd congressional district of Wisconsin, didn't have time for a nap. He attended a workshop called Working Families at a hotel near the Reading Terminal Market.
LaRonge visited the market for a short walk through in the morning, and couldn't believe how many options there are.
"It was a little overwhelming," he said, happy to have so many foods in front of him. "We don't have anything like that."
As a whip for the Wisconsin delegation, he spent some of his time Tuesday early afternoon meeting with other states' leaders. He said the Sanders delegates won some crucial concessions on day one related to the 2020 convention, including the elimination of two-thirds of the super delegates for the Democratic Party in the next presidential election cycle.
"That's a big win," he said.
After his workshop ends at 2 p.m., he's jumping on a subway to head to the convention.
Jackson will head down sometime after 2 p.m. With her roommate for the week, Angelina Hagan, another Colorado delegate. The two became friends during the delegate election process a few months ago.[[388288082, C]]
Tuesday Morning
Matthew LaRonge wore a suit on the first day of his first political convention, expecting a shuttle bus from his hotel in Center City to the convention at the Wells Fargo Center.
Thanks to throngs of protesters blocking the entrances to the Democratic National Convention on day one, however, the young Bernie Sanders delegate from Plover, Wisconsin, had to trudge it from 12th and Arch streets to the subway station at City Hall.
"It was a lot of Bernie supporters blocking the entrances," LaRonge witnesses as he got off the subway, then walked a couple hundred yards in the sweltering heat to the Wells Fargo Center. "They were blocking the Bernie delegates, though, too."
Today, he decided "to dress casual."
He said he actually didn't mind the subway. But he and the rest of the Wisconsin delegation was able to ride a bus back to Center City. There, they went to the Constitution Center to party until 2 a.m.
"I'm paying for that now," LaRonge said.
He is a delegate whip for his delegation, which means he has some planning meetings before he heads back to the arena for day two. He is also going to a workshop called Working Families at a Center City hotel.[[388177812, C]]
The delegates have plenty of meetings to attend this week, and many more optional workshops.
Then there are the photo ops, as Colorado delegate Jené Jackson can attest. She got up after also staying out checking out the city until nearly 3 a.m. Tuesday. She sat in La Colombe at noon sipping a double espresso across from City Hall.
"We have a group photo with all the Coloroado delegates at 1 p.m., I think in front of the Rocky Statue," she said.
What are LaRonge and Jackson expecting today on the floor, as the roll call vote takes place.
"The Bernie Sanders campaign told us not to be rude when the roll call happens," LaRonge said. "But when they announce Hillary Clinton is going to be the nominee, it's going to be ugly."