As the investigation of the fatal police shooting of a Philadelphia man continues, activists continued to protest Monday, interrupting an event by city council president Darrell Clarke and beginning a march to the nation's capital.
Protesters gathered on 4200 Whitaker Avenue around noon Monday where 30-year-old David Jones was shot and killed by Philadelphia Police Officer Ryan Pownall back on June 8.
Police said Jones was shot in the back after he was stopped for allegedly driving a dirt bike recklessly on a street. A preliminary investigation from police found that the shooting occurred after Jones removed a handgun from his waistband and got into a struggle with Officer Pownall. A man who said he witnessed the confrontation said Jones never brandished the weapon however.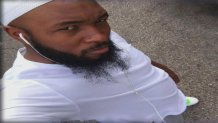 After a group held a rally on Whitaker Avenue Monday, Jamal Johnson, an organizer with the Stop Killing Us (SKU) campaign, began a 150-mile march to Washington, DC to protest police killings. Supporters joined Johnson as he ended the first day of the march at the Philadelphia District Attorney's Office. He plans to continue marching for three weeks until he reaches the Department of Justice in Washington, DC on August 28 where he'll deliver a list of proposed policies and solutions developed by SKU to change policing across the country.
Protesters also interrupted an event held by Council President Darrell Clarke Monday. Clarke later released a statement on the status of the investigation.
"Any time a police officer is involved in the shooting of a civilian is cause for a timely and diligent investigation," he wrote. "Because of the circumstances in which Mr. Jones was shot and killed, including conflicting witness accounts and the troubling fact that he was shot from behind, we need a thorough investigation."
"The Philadelphia District Attorney's Office has referred this matter to the Office of the Attorney General due to a conflict. The OAG has taken over this investigation. I am confident Attorney General Josh Shapiro will conduct a thorough and fair investigation into this matter."
Local
Breaking news and the stories that matter to your neighborhood.
Clarke also expressed the council's condolences to Jones' loved ones.
NBC10 spoke to a man who said he was in the backseat of Officer Pownall's vehicle on June 8 and witnessed Jones' death. Terrence, who did not want to reveal his last name, said his 9-year-old son had been abducted that night but managed to escape. Officer Pownall picked up Terrence, his son and Terrence's 11-year-old daughter to take them to the Special Victims Unit.
As Officer Pownall, a 12-year veteran assigned to the 15th District, continued driving the family, he spotted Jones riding a red dirt bike in a "reckless manner," investigators said. Dirt bikes are illegal in the city. Pownall then saw the dirt bike stall on the sidewalk next to a nightclub on the 4200 block of Whitaker Avenue, according to police.
Investigators say Pownall stopped his vehicle and tried to question Jones.
"Initially (the officer) was only going there to tell this guy to knock it off," Police Commissioner Richard Ross said.
Information from a preliminary investigation stated that Jones turned away from the officer and began holding the front of his waistband.
Terrence also told NBC10 Pownall tried to pat Jones down.
"Pull up, skrrt! 'I'm taking your s***!' That's what he said," Terrence said. "So Mr. Jones is still sitting on the bike."
Police said Pownall patted Jones down and felt a firearm in his waistband. Officer Pownall then took out his gun and repeatedly told Jones not to touch the weapon, police said. Jones then allegedly pulled a gun from his waistband.
"(The officer) looks in his face and says, 'Bro don't do it, bro don't do it,'" Ross said.
Terrence said a struggled ensued between the two men and Jones then broke free of the officer and ran.
"I could hear him, 'He had a f-ing gun! He had a f-ing gun!' I said, 'The gun is right here,'" Terrence said.
Officer Pownall tried to use his taser on Jones at first and then took out his gun, according to Terrence. Police say Pownall then squeezed the trigger but it jammed. Pownall then cleared the stoppage and opened fire as Jones ran away south on Whitaker Avenue, according to investigators.
Jones was shot in the back and buttocks. He was taken to Temple University Hospital where he was pronounced dead.
"The individual then starts to run and the officer then discharges," Ross said. "He is running ahead of the officer when he discharges from behind, so that's a piece we want to look at very closely."
Several people who knew Jones arrived within minutes after the shooting and started yelling at officers. Ross was at the scene as well. One woman described Jones as a "good boy" who didn't bother anyone.
Pownall was not injured during the incident.
A black handgun — later identified by police as a fully-loaded 9mm — could be seen several feet from the dirt bike as a reporter arrived to the scene. Investigators say the gun belonged to Jones and was loaded with 15 9mm cartridges in the magazine.
The dirt bike lay on its side, surrounded by officers and detectives.
NBC10 obtained surveillance video from a nearby restaurant that appeared to show Jones running away from the officer.
"I did watch the video and clearly one of the shots was taken while the male was running away, there's no doubt about that," Ross said.
Ross said the video gives investigators "pause."
"The one video vantage point is actually showing or depicting the officer firing as the guy is running away," Ross said. "I can't get into what the officer may have been seeing or believing at that particular time. Clearly he knows he was in a struggle with a violent guy prior to that."
Ross said he wanted to make sure that the officer was following department protocol, which states you should only shoot a fleeing suspect if they are a suspect in a "forcible felony," but there are exceptions and you shouldn't always shoot.
Ross asked anyone who may have witnessed the incident to come forward and share information with authorities.
Pownall was placed on administrative duty pending the outcome of the investigation. He has not been charged.