What to Know
A man accused of shooting and killing an 18-year-old driver in a fit of road rage pleaded guilty to 3rd degree murder Wednesday.
David Desper of Trainer, Pennsylvania, also pleaded guilty to weapons charges in the road rage killing of 18-year-old Bianca Roberson.
Roberson, of West Chester, died on June 28, 2017 while out on a shopping trip one week before leaving for her freshman year of college.
The cries started long before the plea hearing.
Sobs and hiccups could be heard throughout the Chester County Justice Center Wednesday afternoon as the family of Bianca Roberson waited to face her killer.
David Desper, of Trainer, Pennsylvania, pleaded guilty to third-degree murder and related weapons charges for a road rage killing that made national headlines.
Her mother thinks he got off too lightly.
"My baby! My baby!" Michelle Roberson cried. "He just killed her."
On the evening of June 28, 2017, Desper and Roberson played a deadly game of cat-and-mouse.
Local
Breaking news and the stories that matter to your neighborhood.
The 18-year-old Roberson, of West Chester, had been out shopping one week before leaving for her freshman year of college. Investigators said she and Desper jostled for the same lane on Route 100 in West Goshen Township. But instead of letting it go, Desper pulled out a gun and shot Roberson in the left side of her head.
Roberson's car flipped off the road and Desper sped away. She died from the gunshot wound, according to the Chester County Coroner's Office.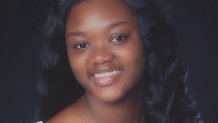 Police said Desper, who had a history of drag-racing, fled to a friend's home in Delaware and hid for several days. After a dramatic manhunt that spanned multiple states, Desper turned himself into authorities in the early hours of July 2, 2017.
Wednesday's guilty plea came shortly before criminal proceedings were scheduled to begin. Still, emotions ran high.
The courtroom remained eerily silent as Roberson's and Desper's loved ones crowded inside. A sheriff's deputy warned both sides to remain calm and respectful.
Roberson's mother was inconsolable. She rocked back and forth as a loved one attempted to quiet her.
"I can't breathe," Michelle Roberson said while stifling cries.
Earlier in the day, the anguished mother put out a post on social media telling people to show up at the courthouse to support the family.
Desper was originally charged with first- and third-degree murder, criminal homicide, possession of an instrument of crime and reckless endangerment. He stood before the judge Wednesday in a dress shirt and pants. His voice shook and tears welled in his eyes.
"I'm nervous," he said.
As both sides approached the bench, a lawyer representing the Roberson family said Chester County District Attorney Tom Hogan and law enforcement officials agreed a third-degree guilty plea seemed adequate.
Michelle Roberson shook in her seat.
"No one is happy with any of this," said Christopher Miller, the Robersons' attorney. "No plea will ever bring Bianca Roberson back."
Desper now faces up to 40 years in prison for the third-degree murder charge and additional time in prison for the weapons charge. He will be sentenced in late 2018 or early 2019.