A 22-year-old man has been found guilty of attempted murder, aggravated assault and related charges in the 2017 shooting of a Pennsylvania State Police Trooper on Route 33 in Plainfield Township.
A jury also found Daniel Clary guilty of disarming an officer and resisting arrest.
His mother teared up and said "I love you, Danny" as Clary was escorted out of the courtroom Friday afternoon.
Outside the courthouse, loved ones hugged 13-year veteran Cpl. Seth Kelly and Trooper Ryan Seiple, who declined to comment on the verdict.
Kelly was shot in November 2017 while helping Seiple make an arrest, Northampton County authorities said. He may have saved his own life by applying a tourniquet on his wounded leg before paramedics arrived, officials said.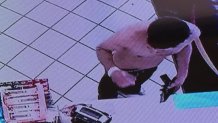 Kelly told the International Association of Chiefs of Police that he was in a medically induced coma for 12 days and retains no memory of the shooting. He was shot through the femoral artery in his leg, twice in the left shoulder and once in the neck.
Local
Breaking news and the stories that matter to your neighborhood.
"I'm just extremely lucky to be here right now," Kelly said in a video posted by the association.
During a hearing, Seiple said he remembered falling backward during the firefight and remembers three things as he was falling and getting back up.
"The first thought that crossed my mind was, 'Please don't let me get shot in the back of the spine,'" he testified. "The second was, 'Don't let me get shot in the head.' The third was, 'Don't let me die.'"
Clary was also shot several times and was hospitalized for five days. He was held in lieu of $1 million bail. His attorney last week sought more time to prepare a defense, citing a need to find an expert witness to counter planned testimony for the prosecution, but the judge declined the request.
Monica Patterson, Clary's mother said her son has a long history of mental illness and suffers from paranoid schizophrenia after a series of head injuries.
"His mental illness needs to be addressed," she said weeks after the shooting. "They think he's normal, but he's not normal."
Clary was found competent to stand trial following a mental health evaluation.
Copyright AP - Associated Press