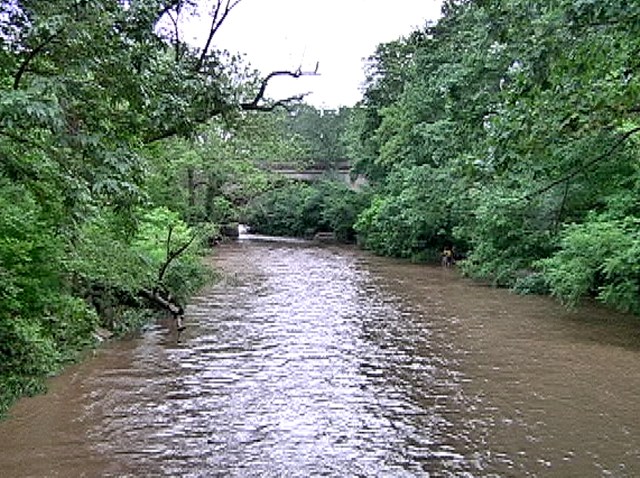 Just hours after firefighters had to hoist a man out of the raging waters of the Pennypack Creek in Northeast Philadelphia, another man went missing after falling into the rushing waters.

Several friends were riding pool floats down the fast-moving creek when two of the rafts overturned while going over a series of small waterfalls near the Roosevelt Boulevard around 6:30 p.m. Tuesday, police said.

A 20-year-old man was thrown into the creek left swollen by the day's torrential rains.

"The male struggled to get back on the raft and he could not," said Chief Insp. Scott Small. "Then he was struggling to stay afloat and keep his head above water."

Small said the strong current swept the man away from shore and eventually underwater.

Witnesses told NBC Philadelphia they watched a friend of the missing man standing in the water, searching desperately for his friend.

"He just kept yelling the other kid's name, he just wouldn't get out of the water," bystander Anthony McMahon said.

Rescuers used motorboats and a Philadelphia Police tactical helicopter to search the waters and banks for the man, but were unable to locate him after hours of searching.
Officials later said there would be no hope that the man was left alive. They've since categorized the search as a recovery mission.

Less than 9 hours earlier, a man had to be rescued from the same creek after becoming trapped by the rushing waters.

The man held onto the pilings of a train bridge for almost 2 hours as rescue crews worked to lift him to safety.

Tuesday evening's tragedy serves as a stark reminder for people to stay away from creeks and rivers following heavy rains.

Officials also warn drivers not to drive through large puddles of standing waters as they may become trapped and even drown should floodwaters rise.