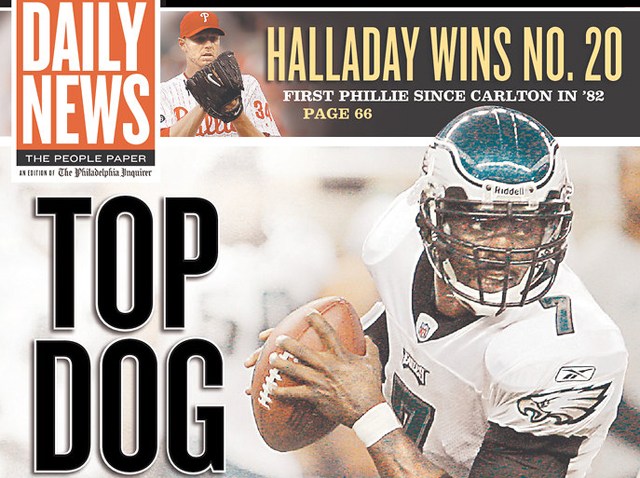 A guy who is both an unconventional quarterback and a convicted felon semi-fresh off 21 months in prison is going to start for the Eagles until further notice, which, knowing Andy Reid, could strike at any time or not for another six games during which someone fails to move the offense.
Naturally, Philly has no opinion on this...that doesn't involve dog references.
The leader of the pack (see how it's done?) is the Philadelphia Daily News, whose "controversial" cover is popping up in Vick coverage everywhere.
Local
Breaking news and the stories that matter to your neighborhood.
"Top Dog!" it screams, above a byline in which "shocking" refers to both Andy Reid's bombshell and Vick's considerable animal cruelty.
Some parts of America recoiled in horror, or at least went all Tim Gunn questioning the Daily News' taste level. Those parts have clearly not met the Trentonian, whose second-paragraph description of Vick is alarming, to say the least. Or the Philadelphia Daily News, which ran this gem back when Vick signed:
In the best of taste? Maybe not. But it is "The People Paper," after all, and the people aren't done making dog-fighting references. Which is fine. Vick did those things. It will always be this way.
But it will also always be amazing that just two years after a spectacular fall from grace, Michael Vick is one of the most exciting quarterbacks in the NFL and perhaps better than he was pre-scandal -- to the point that the Eagles, who've long had a plan for Kevin Kolb and began executing it at considerable risk to themselves (or stupidity, depending on your view), can't deny it.
The Daily News' Vick-needling headline is well within bounds. Where they or anyone else would be disingenuous is in declining to let go of his past while refusing to acknowledge his very promising present. The fact that Vick is even on the cover at all is an incredible thing, and if that comes with dog-fighting wordplay at every turn so be(at) it.