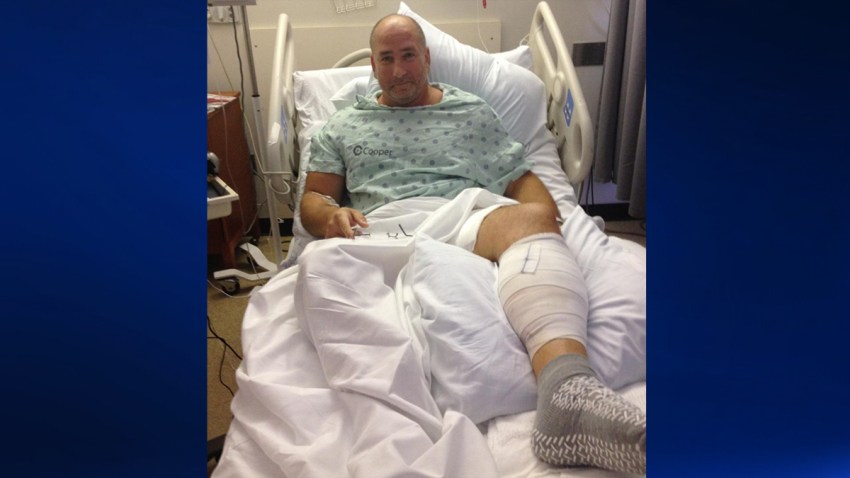 As the river of blood flowed down the highway, all Larry Miles could think was "this is it." But as Miles prepared to let go, a woman stepped in and saved his life.
Now he wants to thank the woman -- who identified herself as Debbie -- for her actions.
Miles and a friend were cruising on their motorcycles along Route 30 in Winslow Township, New Jersey on Aug. 8 around 11 a.m. when a car turning out of a Wawa parking lot pulled out in front of him.
Local
Breaking news and the stories that matter to your neighborhood.
Miles was traveling about 35 miles per hour when the collision happened. His friend, uninjured in the crash, rushed over to him as someone called 911.
"I was sitting there when I saw my upper thigh was cut open and I was bleeding out all over," Miles said.
The crash severed Miles' femoral artery -- the most important artery in the leg. Anywhere from five to eight minutes after the artery is cut, a person can die from blood loss, according to Dr. John Chovanes, a surgeon at Cooper University Hospital's Trauma Center in Camden.
Miles' friend was trying to comfort him as they waited for paramedics to arrive. Less than a minute later, as Miles was making peace with himself, someone approached them.
"This woman just walked up and said 'My name's Debbie, I'm a nurse,'" Miles said.
Debbie acted fast and made a tourniquet with a t-shirt and a stick to try and get the bleeding under control.
"She was just trying to soothe me and keep me calm," Miles said. "She kind of took control until the paramedics got there."
Eight minutes later, first responders arrived on the scene and Miles was air lifted to Cooper Trauma Center in Camden.
Miles said the last thing he remembers is Debbie kissing him on the forehead and telling him he'll be all right.
It is unlikely Miles would have survived the crash if it wasn't for Debbie's quick actions, Cooper University Hospital's Chovanes said.
"You have to know what you're doing to apply a tourniquet properly," Chovanes said. "If [Debbie] didn't stop and have the courage to get involved in the right way, [Miles] would have been dead."
Miles survived surgery to repair the artery, and after another surgery tomorrow to repair his calf, he is supposed to make a full recovery.
But that isn't enough for Miles. He wants to thank the mystery woman who saved his life. The Winslow Township Police Department report only names an "unidentified female." Miles was told by the police by the time he arrived at the hospital, nurse Debbie was nowhere to be found.
"I just want to find this woman who saved my life," Miles said. "I just want to make sure I thank her."