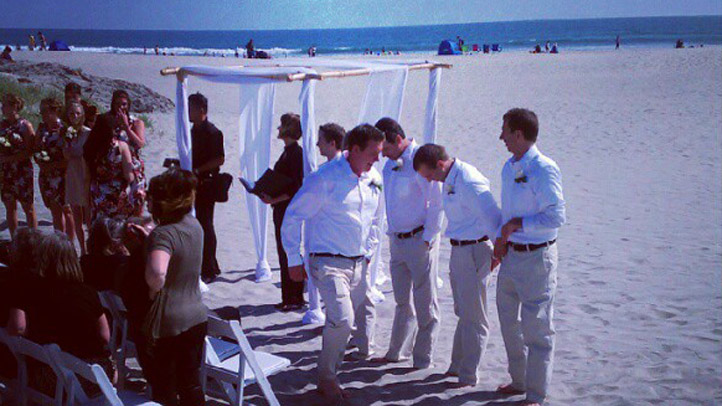 With a name like Steven Wedding, you'd think nuptial preparations with his fiancée, Nicole Thum, would be a breeze.
Not so, thanks to a breeze of a different kind: Sandy.
The storm toppled their plans for a Sept. 27 wedding in Sea Bright when the owner of Merri-Makers at the Waters Edge scrapped thoughts of rebuilding after Sandy destroyed the venue.
Local
Breaking news and the stories that matter to your neighborhood.
"We already bought favors that said Sea Bright on them and already booked most of our vendors," Thum told the Courier-Post of Cherry Hill.
Changing dates just 10 months out would mean changing most of the vendors, too, she said. A frantic Internet search led to One Atlantic, the event venue atop the Pier Shops at Caesars in Atlantic City.
"We fell in love with the place. Better yet, they had our date (available)," she said.
Such situations are not isolated in the aftermath of Superstorm Sandy's assault on the Jersey Shore. With so many couples seeking the coast as a backdrop, horror stories have mounted.
"My most popular wedding package has been my seaside package," said Point Pleasant Beach wedding officiate Andrea Purtell. These packages often take place in Bay Head, Mantoloking, Seaside Heights, Spring Lake, Lavallette and Belmar — areas hit hard by Sandy.
As a result, some locations in South Jersey have gotten more inquiries from the northern half of the state. "We're seeing new vendors sign up this year and participate in the annual Spring Bridal Fair Sunday in Wildwood," said Sara Freeman, Cape May County communications and events director.
Brides' registrations are also up this year. "With Sandy, some places they looked at were not what they hoped for and they are coming down here," she said.
Demand is also strong for the annual Wedding Road Show April 21 on Long Beach Island, said Lori Pepenella, at the Southern Ocean County Chamber of Commerce.
On the flip side, brides and grooms have been reluctant to book shore weddings, not so much for fear of a repeat storm, but based in part on misperceptions that the entire coastline suffered tremendous damage — and still does.
"People need to know beaches in South Jersey are open," said Karen Bergman, director of catering for the Flanders Hotel in Ocean City. "We do a lot of beach weddings. The message needs to get out. We have no damage. You walk down the boardwalk today you never know there was a storm. But people think we're under water."
At One Atlantic, most inquiries open with the same question, said director, Elizabeth McGlinn: "'Did you sustain any damages?' And we always say the boardwalk, with the exception of the area scheduled for demolition, was spared."
Finding a new location is only one part of the post-Sandy equation. For Thum and Wedding, the band they hired charged for travel costs to Atlantic City and the couple had to secure another, more expensive florist.
"I'm sure you can imagine that as a young couple paying for our own wedding, every additional cost really hurts. We would like to purchase wedding insurance, but as of now we haven't had the spare money," Thum said.
Tricia and Michael Lynam were lucky. Despite damage to Bay Head, the Shamong couple got to have their beach wedding on the same day — Feb. 17 — at the same Grenville Inn Bed and Breakfast in the Ocean County town.
"When Sandy hit, I wasn't sure what to do," Tricia said. "I was stressed out. The beach was ruined. The Grenville had water inside. And everyone told me I need to look elsewhere."
The pair considered getting married in Purtell's office and celebrating on the beach itself when the mess was cleared. But the folks at the inn said they'd be ready just in time for the wedding weekend.
The couple had to walk past destroyed houses, front-end loaders and trucks to get to the beach.
"It didn't bother me. It was a win-win. I was able to have my wedding when we wanted and give a little back to a town that was in disarray. The trucks on the beach just made it more interesting," Tricia said.
What makes couples like the Lynams fall in love with marriage on the beach?
"Michael and I love the Jersey Shore," Tricia said. "The sound of the ocean and the beauty of the sunrise. What better place to get married? We were both raised in New Jersey, so why not stay in New Jersey?"
There's the photo-op. And the nostalgia.
"The attraction is lifelong memories of coming down the shore for vacation with family and wanting to have it again, even if for one night," Freeman said. "Because the Jersey Shore is a tank of gas (away) for nearly a third of the population, it's ideal for those who don't want to sacrifice their guest list for a unique location."
Sixty percent of Bergman's clients wed on the beach. "We create the atmosphere of a destination wedding without the cost of airfare."
Tara Adamovich and her fiancé, Brian Wilson, live in North Wildwood. But when they planned their May 4 wedding, they chose Martells' Waters Edge in Bayville, Ocean County, a locale somewhat equidistant to family in South Jersey and North Jersey. But after Sandy, officials condemned the building.
"We were six months out and had all our vendors booked, so pushing the date back wasn't an option we wanted to explore," said Adamovich, whose parents found Sea Oaks Country Club in Tuckerton. "It was just dumb luck they had our date available. We were also lucky with our plans that not too much had changed, so vendors just had to adjust the locations."
Luck seems to be the biggest variable as the next storm season approaches in June.
"I guess I just like to think that with as much bad luck as we've had, that it just wouldn't be fair to have anything more go wrong," Thum said.
Source: Courier-Post
Copyright AP - Associated Press