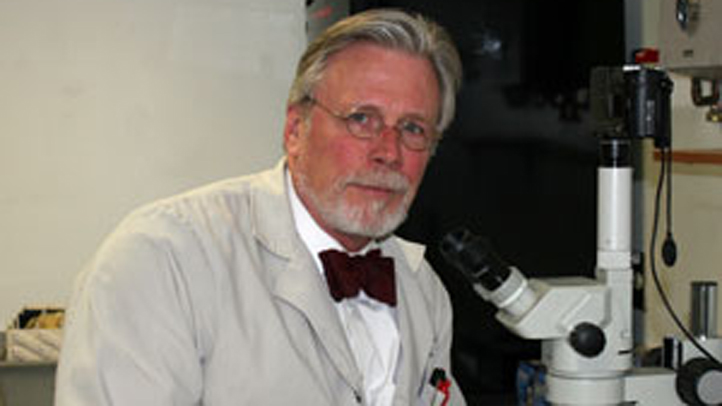 Graham Hetrick has always tried to conduct his press conferences as a dialogue on human morality.
Why do we as a society let the least fortunate live in such poor conditions? How can humans be so bored with reality that they flood their veins with drugs? How can we shrug off yet another murder?
He weaves the questions between notes on bullet angles and brain aneurysms. The skeleton hanging over his shoulder only reinforces the point that death is coming for us all. Hetrick expects the docudrama that will start filming next month about the Dauphin County Coroner's office will be just like that -- except the television cameras will follow him and his staff home.
Local
Breaking news and the stories that matter to your neighborhood.
If the executives at A&E like the pilot LMNO Cable Group will produce, Hetrick could be the nation's next reality star. With his bow tie, beard and flair for the dramatic, he should be a natural on television.
The format for "Graham of Evidence" will be a mix of old and new cases, Hetrick tells PennLive.com. Some will be recreated, possibly using pseudonyms to protect privacy and ongoing criminal investigations, Hetrick said.
He wants to show viewers the science of uncovering how a person died. The pilot, and other episodes if they are made, will be edited to feature three or four cases that fit a narrative theme.
"I want to project themes from the data we get here and create good national discussions," Hetrick said.
The show will also try to portray the strain that comes with working so close to death, Hetrick said. It could also go into the classroom at Harrisburg University, where Hetrick is an adjunct professor.
"I want to project themes form the data we get here and create good national discussions," Coroner Graham Hetrick said.The production team will take steps to make sure the privacy of the deceased and their families are protected, Hetrick said.
In addition to being the star, Hetrick is an executive consultant on the project. Contractually, that lets him tell film crews what is not appropriate for filming, Hetrick said. It also lets him build the filming schedule around his duties as coroner.
Not all of the people featured will be on an autopsy table.
"It's not just going to be a show about crime," Hetrick said. "It's going to be about poverty, and the school systems, and drug abuse and how people get caught up in heroin and things like that."
The idea of a reality show about a coroner seems exploitative, said Pike County Coroner Kevin T. Stroyan, president of the state coroners association. But, Stroyan said, the type of show Hetrick is describing could correct a lot of the public misconceptions about forensic science created by dramas like "CSI."
There needs to be high standards of privacy, Stroyan said, but Hetrick "is professional enough that I think he would use the right discretion."
"People are entitled to the truth," Stroyan said. "If it's this type of thing, it would probably be good for us and the public."
Is Hetrick ready for the overnight fame that could come with being a reality star?
"I can't answer that question because I have no concept of what that's like," he said, adding that he isn't trying to become famous.
Instead, Hetrick said he wants to make people think about how they live.
"I love my community," Hetrick said. "I hope I can tell good stories about it, because there are good stories to tell, and also talk about the problems we have to solve.
"At the end of the show, hopefully people will have something to think about. We'll see if America likes it or not."
Copyright AP - Associated Press