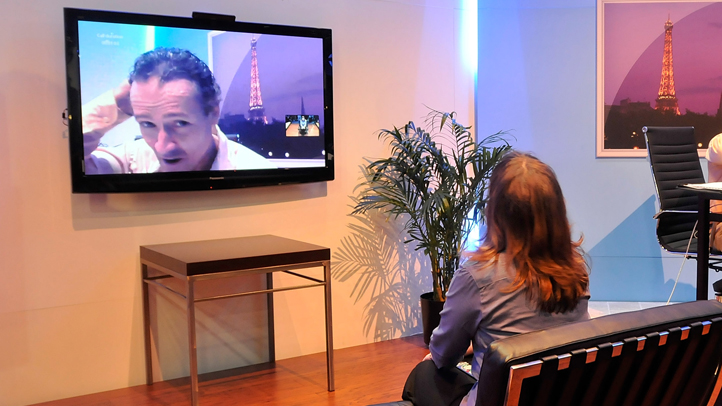 Catching up with old friends may soon be as easy as sitting in front of your television.

Cable giant Comcast has inked a deal with the massively popular video conferencing service Skype to offer video calling through your cable box.

Comcast customers will be able to make video and audio calls between Skype users as well as have text chats using a special remote.

The remote will be part of a kit offered to customers who opt-in for the service. It will also include an adaptor box and HD video camera, the company says. It's unclear if newer Skype-enabled HDTVs will work with the service.

"TV has evolved into a social experience, and Comcast and Skype will be delivering a product that personalizes the TV experience even more, and brings friends and family together through the biggest screen in their homes," Comcast Cable president Neil Smit said in a statement.

The Philadelphia-based company says customers will also be able to start conversations on its Xfinity smartphone app or mobile website and continue them on the TV – and vice-versa.

Consumers will not be immediately be able to make regular phone calls through the TV, but the company says it plans to add that option in the future to subscribers who have the company's phone service.

The cost of the kit is still unknown, but customers will be renting the hardware – much like they do with cable boxes and broadband modems.

Comcast, the nation's largest cable company, plans to roll out the service in the next few months.

Skype, based in Luxembourg, is being sold to U.S. software company Microsoft for $8.5 billion. The deal is expected to close by the end of this year.

Comcast Corp. is the parent company of NBCUniversal and NBC10.
Copyright AP - Associated Press