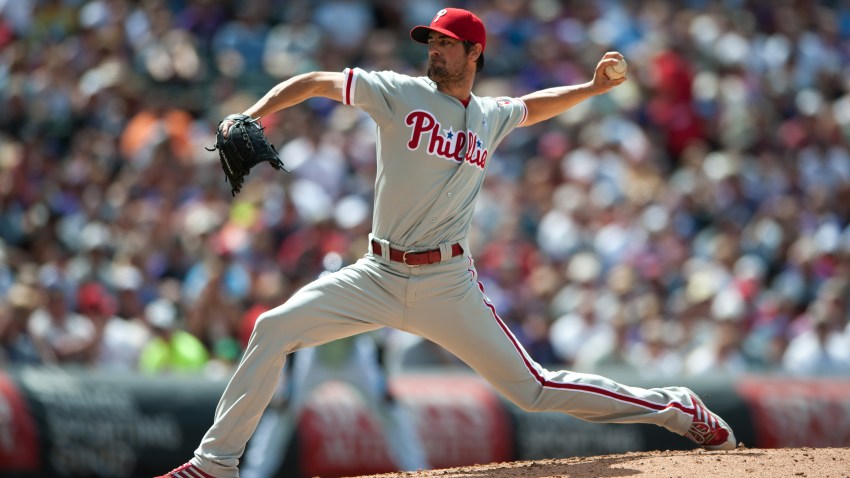 One of the early storylines in 2013 season for the Philadelphia Phillies pertained to Cole Hamels, who was the subject of much talk (and some ire) during the first month or two of the season, when he appeared to be getting off to a rough start in the first year of his new deal with the Phillies, when he got knocked around in his first two starts of the season.
It was about as bad a start to the season as a staff ace could have, and as a result, Hamels dealt with an inflated ERA for much of the season, which created some naysayers among the fanbase, who proceeded to decry Hamels and wonder if he fleeced the Phillies out of $144 million dollars.
But Hamels, who is every bit as good as any pitcher in the league, shook off his early season slump, reeled in his control problems, and proceeded to pitch like everyone has come to expect over the last few months. And despite an ERA that is still hovering in the mid-threes, Hamels is still every bit as good as the guy who dominated hitters over the last few years.
Local
Breaking news and the stories that matter to your neighborhood.
He made perhaps his best start of the season on Monday night, when he dominated the Atlanta Braves to the tune of one run over nine innings of work. It was the first complete game of the season for Cole, who struck out nine, walked one, and allowed six hits to one of the better offenses in the National League. Following Monday night's outing, Hamels saw his ERA drop to a season-low 3.65.

Despite a rough start to the season, Hamels has been as good as ever since he made his third start on April 13. Following a pair of starts that saw him allow 13 runs in 10.2 innings, Cole has been among the best starters in the National League. He's had his iffy performances since then, but that's normal, and not at all unique to Hamels. And while he did display some command issues early on, Hamels has walked more than three batters in a start dating back to May.

Since he took the hill on April 13 (in what would be a 2-1 loss at the hands of the Miami Marlins), Hamels has allowed three or fewer runs in 18 of his 23 starts. In 14 of those starts, he's allowed two or fewer.

And since his third start of the season, Hamels owns a 3.15 ERA in 154.1 innings over 23 starts, which would rank him 18th in the National League, and just ahead of teammate Cliff Lee, who sports a very tidy 3.18 ERA in 155.2 innings of work.

The real issue with Cole, as I see it, is perception. Following those first two starts, where he was clearly not himself, a sort of narrative emerged where it seemed like he got soft after signing his contract extension, or that he is giving up because he has the money to go along with his World Series ring. That narrative certainly wasn't helped by the fact that he started the season with a 2-11 record, which is almost entirely the product of the offense being unable to offer any sort of support when he toes the rubber. This season, Hamels has received all of 3.24 runs of support during his starts. It's fourth worth in the National League among qualified starters, and he once again sits just ahead of Lee, who is getting 3.27 runs of support per game. Pitching against professional hitters is a tall enough order before you factor in the toll it takes on a starter when he realizes that he has to be darn-near perfect if he wants to get a win.

Remember that stat from a moment ago, about how Hamels has allowed two or fewer runs in 14 starts this season? The Phillies are 6-9 in those games, and Hamels himself has a record of 5-5. I've talked about it before, but win-loss records, as it pertains to pitchers, are for the birds.

Long story short, Hamels is about as good as he's ever been. He's striking out batters at a rate lower than his career average, but he isn't walking any more hitters, nor is he giving up any more home runs than usual. With the exception of a pair of bad starts to the season, Hamels has been right on point this year, and you can expect him to continue to be among the elite starters in the game for the foreseeable future.