Keith Auerswald knew exactly which doggie he wanted to bring into his family.
He had met Fiona at the Women's Animal Center in Bensalem, Pennsylvania, last week.
But he waited until Saturday, because he knew that adoption fees would be waived that day as part of the nationwide Clear the Shelters campaign hosted by NBC and Telemundo stations, including NBC10 and Telemundo62.
"The stars kinda aligned, and we decided to come and pick her up today," Auerswald said.
Later, Auerswald sent a photo to NBC10 of Fiona in her new home, resting comfortably on the cool wooden floor.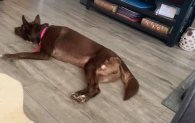 His was the first adoption of the day at that shelter, but it was far from the last. Locally, some 5,691 animals have been adopted since the campaign kicked off three weeks ago and 1,902 were adopted Saturday.
Local
Breaking news and the stories that matter to your neighborhood.
Nationally, 117,000 dogs and cats found their forever homes as part of Clear the Shelters.
Another adoptee today was Teddy, a dog who was deaf and had waited for the right home at the Morris Animal Refuge in Philadelphia. Teddy's sweet smile and sad story won over many on Twitter, with Tweets asking about Teddy's status flying in from throughout the nation.
Pet of the Week lovebug Teddy's waiting so patiently for someone to adopt him! He watches through the window as people come & go, but they don't stop for him. Meet him Saturday 8/17 at our fee-waived #ClearTheShelters adoption event. Please RT for this good deaf boy! Cc: @darth. pic.twitter.com/9RyQgoHWIQ

— Morris Animal Refuge (@MorrisAnimal) August 15, 2019
Several people called the shelter and offered to take care of any adoption costs.
Teddy found the perfect home later Saturday, with a family who has a daughter who is Deaf. The family hopes to teach Teddy sign language, they said.
Brandywine Valley SPCA reported that they had 304 adoptions today, and that all three of their sites broke adoption records.
304 #ClearTheShelters adoptions today! Amazing all the love that came pouring in: from both dog & cat longest residents to babies getting a fresh start. Thank you adopters, donors, staff, volunteers, @NBCPhiladelphia for making it possible! (All 3 sites broke records!) pic.twitter.com/IWedd5BPwt

— BrandywineValleySPCA (@BrandywineSPCA) August 17, 2019
The adoption stories just kept coming: Clara O'Day, a 5-year-old from Ewing, New Jersey, came with her parents Sean O'Day and Theresa Pfarr to the Women's Animal Center and adopted Ripley, Clara's first dog.
Simone and Nia Graves came to find a new friend for their dog, Lady. They found Mordecai.
"On a scale of one to 10, probably like an 11," one girl said. "Yeah, probably more than an 11," chimed in the other. "We're excited."
Debbie welcomed Gigi and Princess, two cats that had been surrendered to the Women's Animal Center together and now get to stay in a forever home together. Chrissy picked out Rabbit, who was actually a cat.
Robin Bicoff had recently lost a pet, and was ready to open her heart again. She found a feline friend. "I hope that she loves all the toys I bought her and her dining area and wants cuddle with us," Bicoff said.
Across our region, 67 shelters particpated. In Bensalem, NBC10 and Telemundo62 anchors and reporters mingled with the crowds who had gathered to check out adoptable animals.
In Delaware, one long-time shelter resident finally found a family to take him home. Buster, an 11-year-old cat, had been at the Faithful Friends Animal Society in Wilmington since he was abandoned on its steps in 2009.
On Saturday, he went home for a trial run to see how he gets along with a local family's dog. We're keeping our fingers crossed they become best friends!
Another longtime shelter resident was Nunu, who had been at the Brandywine Valley SPCA in West Chester since April, 2018. As he left shelter workers clapped, and he gave a big lick to the face of the shelter's behaviorist.
Shelter Animals Find Forever Homes at Clear the Shelters
Though adoption fees were waived, the shelter's other policies were not. Adopters had to comply with all the shelter's usual requirements. And all the pets were sent home with a clean bill of health. They had been spayed or neutered, microchipped and given all their needed shots.
Hill's Pet Nutrition provided goody bags to adopters that included pet food, and NBC10 and Telemundo62 offered doggie water bowls.
"You can't beat it," said Cathy Malkemes, CEO of the Women's Animal Center. "You're saving a life, and walking out of here with an animal that has everything that it needs."
She said the yearly Clear the Shelters Day brings much-needed attention to the hard work of local animal shelters. "It brings such great attention. We're thrilled we have some long term residents leaving today."
Every year, 6.5 million animals end up in shelters nationwide -- and only 3.2 million are adopted, according to the ASPCA.
.large div.leadMediaRegion {border:none} .large .leadMediaRegion.city_module iframe {height:650px;}