Michelle Schaffer, community outreach director for Lilo's Promise Animal Rescue, has worked with many dogs, but she says "We've never had a dog like him before."
Aladdin is a five-year-old pit bull mix who was rescued after he was found starved, with his tail and legs broken and missing 12 teeth. "He was a skeleton," Schaffer says.
"We pulled him into a rescue, gave him medical care, he came to my house as my foster and, within 8 months of getting him, he was a certified therapy dog."
Now, his resume is better than most humans. He's worked with the Philadelphia police department and their fallen troops, with special needs children, as a first responder in the Orlando pulse shooting, teaching humane education in schools and as a therapy dog.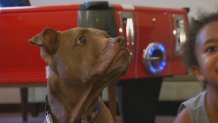 Aladdin was awarded by the American Humane Association for his therapy work and was a finalist to receive the American Humane Hero Dog award. He is a model and ambassador for Show Your Soft Side alongside Eagles player John Dorenbos. These accomplishments do not even begin to sum up his life.
One major thing Aladdin does, every other Monday for four years to be exact, is therapy dog sessions at the Ronald McDonald House.
Local
Breaking news and the stories that matter to your neighborhood.
"He loves kids," Schaffer says, "He loves everybody. I mean when we got him he couldn't stand up, but when he would see somebody he would wag his tail."
One of the kids who loves Aladdin in return is Matt Seward's son who has nasopharyngeal carcinoma, a rare type of cancer. "It's been real tough. It's been real tough," Seward says. "They say it's like an older person's thing but, you know, here we are."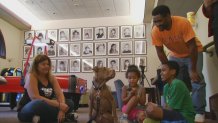 Seward's son is 15.
Seward's request is simply, "prayers for all the families. All the families that I've met, I try to say a prayer for them. All those prayers help, you know?"
He says his son loves Aladdin. "It helps a lot. You'd be surprised how much it lifts his spirits," and Seward appreciates "any little thing that'll bring their spirits up."
Dogs like Aladdin are breaking shelter dog stereotypes. "You would think after what a person did to him, he would be afraid of people, but he loves everybody. He always manages to find the person who needs him the most," Shaffer says.
Whether it through adopting animals, fostering animals, visiting animals or sharing about the shelter animals on facebook, Shaffer says that making a difference in these shelter animals' lives is worth it.
"There are so many amazing dogs like him in the shelter and many people don't realize that. Everybody thinks that I bought him… he's just a shelter dog."