A child left home alone as his father claimed to be searching for a job fell from a second-story window in Delaware County.
Upper Darby police arrested the 3-year-old's parents for leaving the boy home alone inside the family apartment along Hampden Road Monday, according to an affidavit of probable cause obtained by NBC10.
Officers and paramedics arrived to the home around 5:30 p.m. Monday to find the 3-year-old boy with a head injury, police said. It appeared he had fallen from a second-floor window. Medics rushed the boy to the Children's Hospital of Philadelphia where he was listed in guarded condition.
No one could locate the boy's parents. Officers forced their way into the home to find a window missing its pane of glass and no one else inside.
"What amazes me is how you can leave a small child alone at 3 years old, you know that child is going to get into some sort of danger," Upper Darby Police Superintendent Michael Chitwood said.

As police waited to execute a search warrant for the apartment, the boy's mother, Lea Rosine Dezai Epse Wanhi, showed up around 7:45 p.m. Police then called the boy's father, Legbo Thierry Wanhi, who said he was near Love Park in Center City Philadelphia at the time. He arrived to the police station around 9 p.m.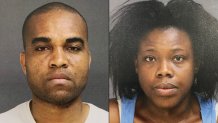 Neither parent speaks English, Chitwood said. Through a translator, Thierry Wanhi told investigators he knowingly left his son home alone, police said. He said he left the apartment between 4:45 to 5 p.m. in search of work. He knew the boy's mother was at work all day and wouldn't be home until at least 6 p.m.
Local
Breaking news and the stories that matter to your neighborhood.
"Quote claims on Memorial Day he went out to find a job," Chitwood said.

Both parents were arraigned on child endangerment and reckless endangerment charges Tuesday. Bail was set at 10 percent of $30,000. It was unclear if they have attorneys who could comment for them.
Police contacted child youth services to further investigate.