It was two days before Christmas when Lea Floyd experienced every mother's worst nightmare. Floyd was inside her home on Clover Street in Chester City, Pennsylvania when she heard the sound of gunshots. She then saw her 18-year-old son Julian DeShields on the ground about a half a block away.
"By the time I got to him, he was gone," Floyd said.
DeShields had picked up food from a store on the 900 block of Clover Street shortly after 1 a.m. on Dec. 23. As he walked back to his home, at least one gunman opened fire, striking DeShields in the back. Floyd was there as her youngest son took his last breath.
"It was just me and him on the street," Floyd said. "Just me and him at birth. And me and him at death."
DeShields was a senior in high school who had dreams of moving on to bigger and better things after graduating.
"He wanted to go to college, go to Lincoln," Floyd said. "He wanted to become an FBI Agent, played basketball, an A/B student. First time on the honor roll."
More than a week after DeShields' murder, police continue to try to identify four teens wanted for questioning. Minutes after the shooting, the teens were spotted inside the same restaurant DeShields had picked up the food from, investigators said.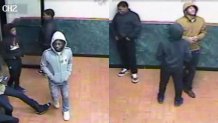 Only a month before his death, DeShields posted on social media, "When I die, what would my heaven look like? I hope a lot of candy." Now his mother is wondering whether her son knew something she didn't. She does know one thing for certain however.
Local
Breaking news and the stories that matter to your neighborhood.
"I'll miss him for the rest of my life," she said.
Police have received several leads since the shooting and believe the teens are from the neighborhood. As the investigation continues, DeShields' family members are trying to cope with their loss.
"I'm devastated," said DeShields' brother DJ Floyd. "I'm heartbroken. I wish this gun violence would stop for real."
If you have any information on the identity of the suspects, please call Detective Blanden at 610-447-8420 or email rblanden280@chesterpolice.org.