A man accused of beating, raping and robbing a woman in Center City is under arrest and will face charges, Philadelphia police said.

Philadelphia Police arrested Archie Swinson, 44, late Thursday night along the 1200 block of Ludlow Street, not far from City Hall. He is accused of attacking the woman along the 400 block of South Watts Street Sunday morning.
He faces charges including rape, aggravated assault, unlawful restraint and related counts, Philadelphia police said Friday morning. He remained jailed Friday afternoon on $950,000 bail. Online court records don't list an attorney who could comment on his behalf.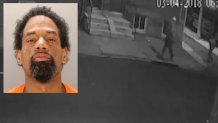 Swinson was arrested 18 times previously for robbery, drugs and assault, police said.
Kenneth Faixmel, a 38-year-old who also goes by the name Rashawn Spann, is also charged with a "litany of offenses," including rape, robbery, theft, aggravated assault, involuntary deviant sexual intercourse, unlawful restraint and receiving stolen property, among other charges, according to police.
Faixmel is not the primary suspect. Most of these charges against him are related to conspiracy, Philadelphia police Capt. Sekou Kinebrew said. Police believe he acted as Swinson's lookout.
"When two people conspire to commit one crime, crimes that unfold during that crime, they both will be charged," Kinebrew explained.
Local
Breaking news and the stories that matter to your neighborhood.
Faixmel was arrested Thursday morning around the same time and in the same vicinity where the attack happened Sunday. He was walking on the 1300 block of Locust Street when police recognized him from surveillance video released earlier this week.
That same video showed the victim walking on the 1300 block of Lombard Street Sunday morning around 5:30 a.m. A man walking in the opposite direction suddenly grabbed her by the neck and dragged her onto Watts Street. There, she was repeatedly punched in the head and face while being sexually assaulted.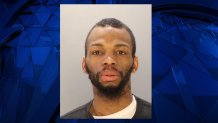 Faixmel helped steal her backpack, police said. He remained jailed on $750,000 bail Friday. Online court records don't list an attorney who could comment on Faixmel's behalf.