Police say the man charged with trying to abduct a 10-year-old girl from a sidewalk in South Philly Tuesday turned himself in because he "felt that he could not walk, talk or breathe out there."
Captain John Darby, who runs the Special Victims Unit of the Philadelphia Police Department, said Carlos Figueroa-Fagot turned himself in around midnight for questionig and was later arrested by police at 9:30 a.m. Thursday. That was just hours after police released surveillance camera video Wednesday that shows a man trying twice to abduct the girl from the 2400 block of S. Lee Street.
Tips started coming in to police and then the suspect's own family and a priest convinced him to turn himself in. Figeuroa-Fagot, who is unemployed, admitted to police that once the video got out, he felt trapped.
Police say the video is one of the most disturbing things they've seen -- a surveillance camera shows a man trying to grab the little girl, twice.
"It is gripping, to say the least. It is disturbing," said Special Victims Unit Capt. John Darby.
The victim and her little brother were walking home just before 4 p.m. after getting water ice a couple of blocks away. In the video you see the man come up from behind them. He grabs the little girl and tries to run off with her. She kicks and bites him and falls to the ground.
"She will fight tooth and nail with anybody," said the victim's mother Joanne Payne. "He definitely picked the wrong girl that day, that time."
On the video, you can see that after she falls, the man tries a second time to take the little girl away. At that point, her two-year-old brother lets out a scream that was apparently loud enough to scare off the attacker.
"Ultimately, with the screams from this little boy and by her account [the victim] she says the child literally screams louder than anything she's ever heard before, he literally interrupts this assault," Darby said.
Police led Figueroa-Fagot out of the Special Victims Unit in handcuffs early Thursday afternoon. He wore a Sesame Street T-shirt with Elmo and Cookie Monster on it that says, "Every Day I'm Shufflin'"
Figueroa-Fagot, 33, is charged with attempted kidnapping and related offenses. He lives in the neighborhood of 8th and Alllegheny and Capt. Darby says the suspect has prior contact with police both in and outside of Philadelphia.
According to court records, Figueroa-Fagot was charged in Feb. 2011 with a sexual assault on a minor family member. Those charges were withdrawn earlier this month because the victim and her mother claimed they made up the story, police said.
"I'm ecstatic he's off the streets," the victim's father Chris Payne told NBC10. "Somebody like this isn't going to stop... to be that brazen and bold in the middle of the day -- he would have done it again. So it's good they apprehended them."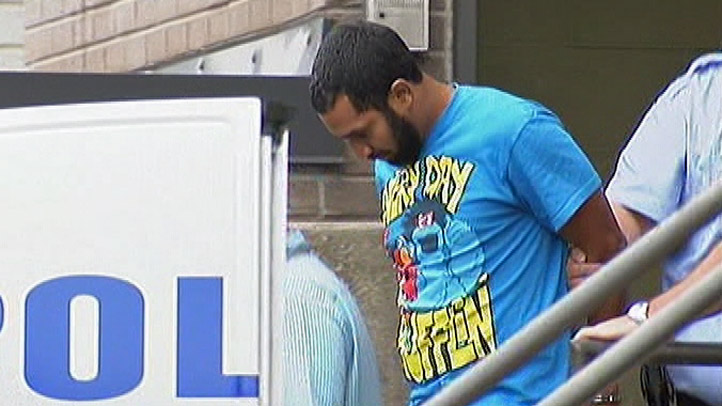 Police say they also have the white sedan the Figueroa-Fagot allegedly used to drive away.
The attacker ran, got into his car and fled east on Porter Street.
Police offered a $10,000 reward to anyone with information leading to the suspect's arrest. It was unclear if anyone would claim the reward.
Figueroa-Fagot was arraigned and held on no bail on Thursday. He is scheduled for a preliminary hearing on August 7 at 9 a.m.
---
Fan, follow and download: Get the latest from NBC10.com anytime, anywhere. Follow us on Twitter, Facebook, our mobile site and NBC Philadelphia. Sign up for our breaking news newsletter. And, get breaking news delivered right to your mobile phone -- just text PHIBREAKING to 639710 to sign up. (Message and data rates may apply.)