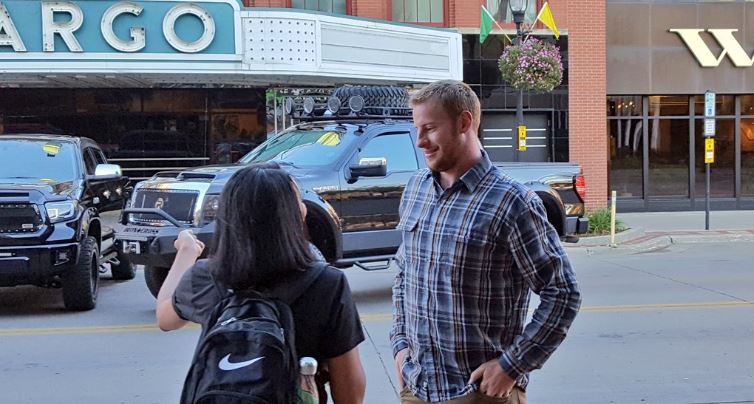 Quarterback Carson Wentz, the prince of Philadelphia these days, returned home to North Dakota for part of the Eagles' bye week.
But as has been the case since he was drafted second overall in April's NFL Draft, he spent some of his time in Fargo in front of a camera, shooting a commercial.
Word spreads fast here, where Wentz led North Dakota State University to an unprecedented 5th straight FCS championship last year. He's a hometown hero. Fans and local news crews raced downtown to get a glimpse of the boy from Bismarck who has quickly become a household name in Philly.
Local
Breaking news and the stories that matter to your neighborhood.
The Eagles quarterback signed autographs in front of the iconic Fargo Theatre Friday morning while the production crew shut streets downtown and set up to film a commercial for RealTruck.com. Wentz signed on with the Jamestown, ND company, which specializes in after-market accessories for pickup trucks. RealTruck is "tricking out" the Wentz Wagon, Carson's new truck.[[395508291,C]]
"For us the partnership was obvious," said Jeff Vanlaningham, president of RealTruck.com. "We are really proud of Carson as a player and even more as a person. . .When we were done with the shoot, Wentz didn't drive off in a BMW, he rolled out in a truck."[[395508021,C]]
Wentz endeared himself once again to folks here during the commercial shoot when he tossed a football to a kid who'd come out hoping to get a glimpse of his idol.[[395508001,C]]
Wentz was already the talk not just in Fargo, but of all North Dakota, after tweeting a picture earlier in the week of the buck he caught bow hunting.[[395508181,C]]
Hundreds of Bison fans lined Broadway Street in downtown Fargo Friday night for the traditional homecoming parade. There'd been a lot of buzz in town about whether Wentz might show up. He didn't. His dad, Doug Wentz told NBC10's John Clark that Wentz is just really trying to relax with family and friends during his week off.[[395506191,C]]
Wentz is expected to be on the sidelines Saturday at the big game.
You can follow us on Facebook and Snapchat throughout the day for exclusive coverage from Fargo.