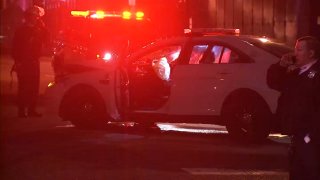 A Philadelphia police officer is out of the hospital, a day after the driver of an SUV ran a stop sign and slammed into a patrol car, police said.
The accident happened around 8:30 p.m. Saturday near 11th and Hamilton streets in the Spring Garden section of Philadelphia, police said. The injured officer was initially listed in critical condition, but was out of the hospital Sunday, the Philadelphia Police Department said.
The SUV driver and four passengers, meanwhile, were taken to a local hospital with minor injuries.
Police did not immediately say what charges the SUV driver might face.