An investigation is underway after racial slurs were written on the doors of Cabrini University students.
The first incident was reported Saturday night. An African American female student told officials someone wrote the words, "Go home n*****" on the door of her dorm room. Cabrini University officials alerted Radnor Township police and began their own investigation Sunday morning, pulling video footage for review.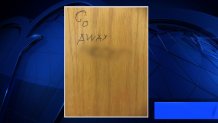 School officials, including the university president, as well as various campus clubs met with the student and her family to show their support. A student-run prayer service was also held Monday while two special forums with the university president and other school leaders were planned.
"It's so close to us, it's scaring me," Kalyn Robinson, a Freshman at the Radnor university, said. "I don't want to come back to this school next year."

On Tuesday, students reported racial slurs were written on the dorm room doors of two more students in the same area where the first incident occurred. On one of the doors, the message "Go Away Too N******" was found.
"Very similar in context to the first door," Radnor Police Deputy Chief Chris Flanagan said. "Again same floor. Same cubicle."
Local
Breaking news and the stories that matter to your neighborhood.
Radnor Police removed one of the vandalized doors from East Residence Hall Tuesday.
"It really makes us all sick to have students experience something like that," said Cabrini University Provost Jeff Gingerich.

No arrests have been made and officials have not released information on any suspects.

"We continue to work with Radnor Police Department on collecting evidence as we work to identify this person, or persons, who so blatantly go against everything we are as a diverse institution," a Cabrini University spokesperson told NBC10. "We've increased security on campus and will continue to do everything we can to identify the perpetrator(s). We are holding campus-wide town halls and forums for students to update them and answer questions about these incidents and next steps."
Students attended a closed-door town hall meeting Tuesday night and expressed their anger, hurt and concern over the recent incidents.
"It hits really close to home because it's pretty united here so it's hurtful to hear," Meghan Dougherty, a senior at Cabrini University, said.
As the investigation continues, students are demanding an end to the ethnic intimidation.
"People pay big bucks to attend Cabrini University," said Brierra Woods, a Junior at the school. "So they should feel safe, wanted and welcome."

Cabrini University officials are encouraging anyone struggling with the recent incidents to reach out to their Counseling and Psychological Services Group as well as the Inclusivity Council.

Cabrini University is a Roman Catholic liberal arts university. The total student enrollment for the 2016-2017 school year was 2,436 while the undergraduate enrollment was 1,650, according to the National Center for Education Statistics. For undergraduate students, 18.6% were black or African American while 58.7% were white.