Police are on the hunt for a driver who pulled out a gun and shot at a car during a road rage incident in Bucks County, Pennsylvania.
The victim told police he was driving a 2011 silver Hyundai Accent with a front passenger inside while exiting I-95 onto Route 413 in Bristol shortly before 5 p.m. Monday when he became involved in a road rage incident with an unidentified man driving a 2003 Buick Rendezvous SUV.
The driver of the SUV pulled up next to the Hyundai and told the passenger to lower his window, police said. As the passenger lowered the window, the driver of the SUV pointed a semi-automatic pistol at the Hyundai and fired two shots.
One bullet struck the top of the passenger door and rubber trim on the other side of the glass where the passenger was sitting, police said. The metal and rubber trim stopped the bullet from penetrating the victim's vehicle. The other bullet entered the right rear quarter panel of the victim's vehicle.
The suspect fled the scene. Neither the driver nor the passenger inside the Hyundai were hurt.
The gunman is described as a white male between the ages of 25 and 35, with brown hair, a mustache and a goatee. He was last seen turning right onto Rockview Drive in Bristol Township off Rt. 413. Police say he drove a 2003 Buick Rendezvous SUV with yellow "haze" front lamps.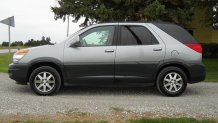 If you have any information on the suspect's whereabouts, please call the Bristol Township Police Tip Line at 267-812-3036.