A pair of gunmen chased a 22-year-old man into the Federal Donuts shop during lunchtime Thursday and peppered the shop with bullets that struck the victim and a boy who ran for safety, police said.
The shooting around 1 p.m. on the 700 block of N. 7th Street in Northern Liberties left the boy, 14, with two gunshot wounds to his leg and the adult with multiple gunshots throughout the body, police said.
Paramedics rushed both to Thomas Jefferson University Hospital, where the boy was stable but the man was in critical condition, police said.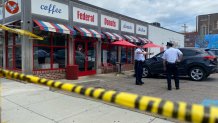 Police did not immediately make an arrest. They did recover a gun that is believed to belong to the 22-year-old shooting victim.
Philadelphia Police Commissioner Danielle Outlaw said it's not yet clear why he was being chased or why the ran into the store. The popular donut and fried chicken spot was filled with lunch goers and employees. The store is also next door to a childhood center.
Investigators are reviewing surveillance video and combing the area for additional evidence.
Local
Breaking news and the stories that matter to your neighborhood.
There are additional resources for people or communities that have endured gun violence in Philadelphia. Further information can be found here.