What to Know
A large winter storm is moving up the East Coast and will bring snow and high winds to most of the area overnight into Thursday morning.
The highest snow amounts are expected at the Jersey Shore and Delaware beaches. But snow could fall as far N&W as the Lehigh Valley.
The nor'easter is undergoing a bombogenesis, which is a rapid intensification, as it moves north.
The first snowstorm of 2018 reached blizzard status at the Jersey Shore after three hours of sustained wind gusts of 35 miles per hour were recorded Thursday morning.
The powerful nor'easter that stretched 1,000 miles wide walloped South Jersey and Delaware for hours. It also wreaked havoc on roads all the way to the far western suburbs of Philadelphia as salt and brine did little to prevent frozen surfaces from becoming dangerously slick.
Accumulations of 11 inches in Northfield, New Jersey, and nearly eight inches in parts of Delaware already were recorded by 10 a.m.
The storm wreaked havoc for the entire region on the roads as salt and brine did little to prevent slick roads during the morning rush hour.
Before 11 a.m., New Jersey State Police said 159 crashes had been reported on state roads -- and they've been called 285 times to help motorists with spin outs or flat tires.
A tractor-trailer crash blocked all lanes of the southbound Northeast Extension of the Pennsylvania turnpike above Lansdale. Traffic had to be detoured.
Local
Breaking news and the stories that matter to your neighborhood.
In places like Manayunk in Philadelphia, where hilly streets are notorious during snow storms, drivers could be seen spinning their wheels. Hundreds of crashes and reports of stuck vehicles occurred on New Jersey roads, state police said.
Wind gusts at the Jersey Shore hit 41 miles per hour near Atlantic City, and are eventually expected to reach as high as 50 miles per hour. The National Weather Service reported a 57 mile-per-hour wind gust at Dewey Beach and Lewes in Sussex County, Delaware, at 6 a.m.
In the storm's wake, temperatures will plummet to levels not felt in decades.
We've issued a First Alert through Sunday morning from the Pennsylvania suburbs to the Jersey Shore and Delaware beaches.
More than 200 flights at the Philadelphia International Airport were cancelled as of 7:30 a.m. Airport officials warned travelers to check on their flight status.
The storm moved across Florida Wednesday morning after developing in the Gulf of Mexico. Northern Florida experienced an unusual snowfall as the system began tracking up the East Coast. Snow began falling in parts of South Jersey and Delaware around 9 p.m. Wednesday.

The nor'easter rapidly intensified throughout Wednesday and early Thursday — known in meteorological circles as bombogenesis — and although its center was 300 miles off shore Thursday morning, the storm is so large that snow was thrown into the Philadelphia suburbs. The cyclone stretches the distance of Philadelphia to Kansas City, Missouri.

The National Weather Service issued a Blizzard Warning through 7 p.m. Thursday for Ocean, Atlantic and Cape May counties in New Jersey and Sussex county in Delaware. Sustained winds or frequent gusts of 35 mph or higher plus visibility of a quarter-mile or less must persist for three hours for a storm to be classified as a blizzard.
Travel during the storm is treacherous not only because of the precipitation, but because the ground is very cold. Salt and brine typically used on roads are not as effective in such cold temperatures.
Hundreds of schools and districts in the area announced closures Thursday ahead of the storm, including Villanova University, the Philadelphia School District and all Archdiocesan high schools and parochial elementary schools in the City of Philadelphia.

PATCO also announced they would operate on a snow schedule starting at midnight Thursday.
New England will likely be dealt the worst blow from the storm and could see two feet of snow before the storm moves away.

After the snow, conditions will be windy with another round of dangerously cold air arriving Thursday night through Sunday morning. Highs will be in the teens both Friday and Saturday with morning lows in the single digits. The wind will make it feel like well below zero.
TIMING
Snow – Now through 2 p.m. Thursday (may start as a mix at the start)
Dangerous Cold – Thursday night through Sunday Morning


ESTIMATED SNOW TOTALS
The amount of snow depends on how close the system tracks along the coast and this could change quickly. Current forecast totals are as follows:

8-12 INCHES
Jersey Shore and Southern Delaware including Georgetown and Long Neck in Delaware and Cape May, Atlantic City, and Long Beach Island in New Jersey.

4-8 INCHES
Philadelphia, southeastern Pennsylvania counties, South Jersey, and northern and central Delaware including Wilmington, Milford, and Dover in Delaware; Vineland, Hammonton, Tabernacle, Washington Township, Evesham, and Trenton in New Jersey; all of Philadelphia; and West Chester, Brookhaven, King of Prussia, Abington, and Bensalem in Pennsylvania.
2-4 INCHES
Upper and western Pennsylvania suburbs including Coatesville, West Vincent, Pottstown, Hatfield, and Richland.
1-3 INCHES
The Lehigh Valley including Easton, Allentown, and Reading.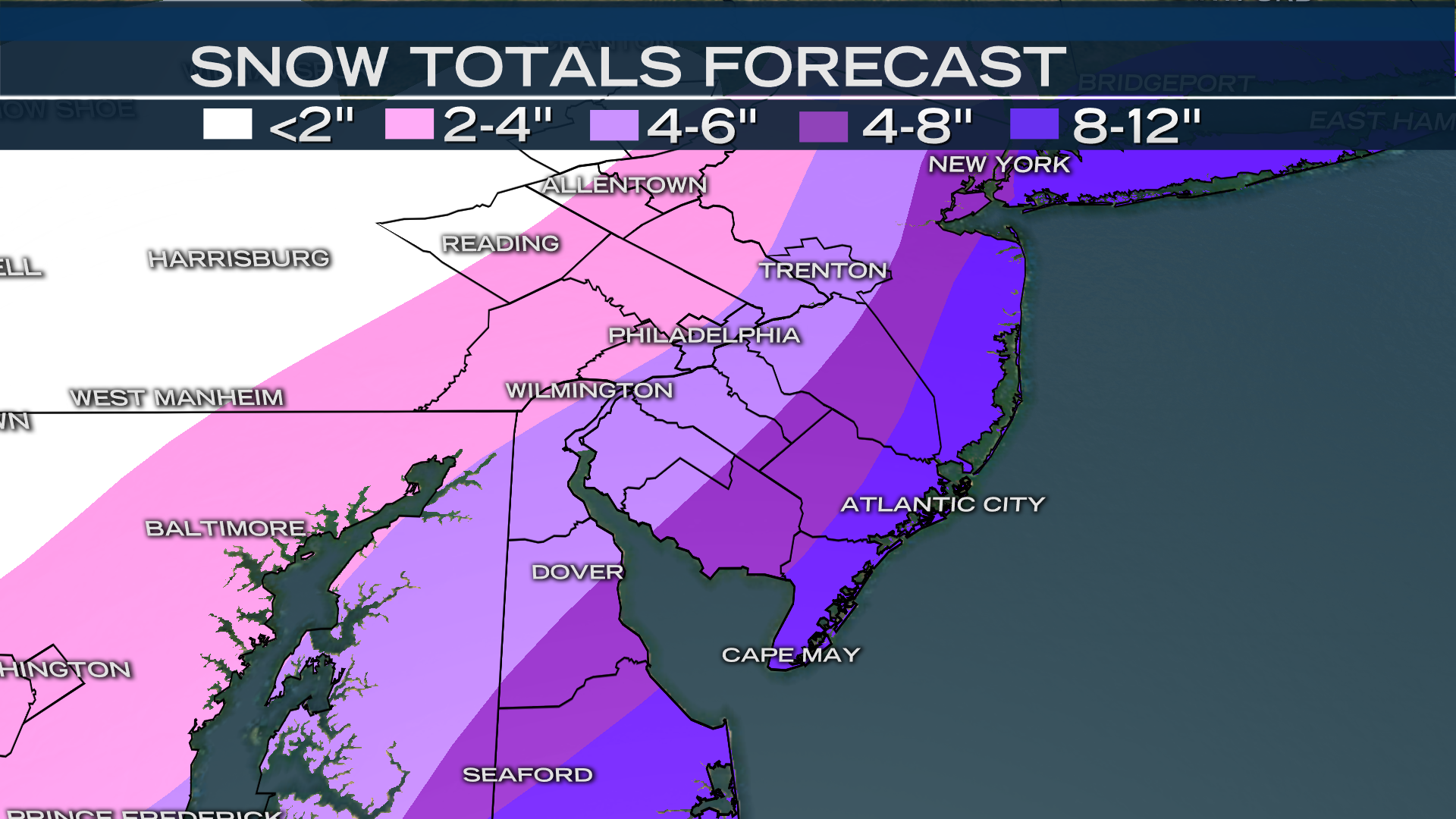 HOW COLD?
Friday and Saturday's highs will be in the low to mid-teens with a morning low between -8 and 8 degrees. Wind chills will be between -10 and -20 degrees in the morning. Sunday morning will also be frigid but the dangerous cold will taper off by mid-morning when the First Alert will expire.
FORECAST
THU: Snow through the afternoon. Low 23 High 28
FRI: Bitter cold, gusty winds. Low 8 High 17
SAT: Bitter cold, gusty winds. Low 4 High 15
SUN: Mostly sunny. Low 6 High 27
MON: Chance of afternoon rain. Low 24 High 43
Stay with the NBC10 First Alert Weather Team for the latest details on the snow and dangerous cold.
Photos: 'Frozendelphia' and Beyond as Arctic Temperatures Grip the Region