Black Lives Matter Pennsylvania activist Asa Khalif was arrested Monday after he broke a window during a protest at the Pennsylvania Attorney General's Office in Philadelphia.
Khalif, 47, and another protester showed up at the office on S. 12th Street unannounced Monday morning and demanded answers regarding Attorney General Josh Shapiro's open investigation of the deadly police shooting of David Jones, Shapiro's spokesperson Joe Grace told NBC10.
Grace said Khalif was told he needed to schedule a meeting but had refused to do so.
"Attorney General Shapiro has publicly stated when the investigation has concluded he will announce a decision," Grace wrote. "Recently, Mr. Khalif was directly advised of that fact. We take this investigation seriously, appreciate its importance to the community, and are conducting a thorough review of the facts and the law."
A video of the incident posted on Facebook shows Khalif and a colleague inside the Attorney General's Office repeatedly asking why the investigation was "taking so long."
Warning: This video contains explicit language
Local
Breaking news and the stories that matter to your neighborhood.
"We're not f---ing leaving until we get the answers," Khalif says.
They then demand that someone from the office with information on the investigation come out and speak with them. The two men then begin to bang on a door as they continue to demand answers.
"Don't hide behind the f---ing door," Khalif shouts. "Open the f---ing door and answer questions!"
The men then confront an employee inside the building.
"What's so funny?" Khalif asks.
The man replies by saying he thinks it's "funny" that the two men are blocking access to the door. Khalif and his colleague then curse at the man while denying that they're blocking access. Khalif then pushes out a window panel of a door. An officer inside then grabs Khalif and places him in handcuffs. As he remains in handcuffs, Khalif and his colleague continue to curse at the employees inside while demanding answers and justice for David Jones.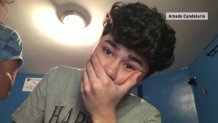 Shapiro was in Harrisburg at the time of the incident, according to Grace.
"The Attorney General strongly supports and protects the right to protest," Grace wrote. "Those protests cross a line, however, when property is destroyed and individuals engage in threatening behavior."
Khalif, born Earl Pittman, is charged with institutional vandalism, terroristic threats, defiant trespass, harassment and disorderly conduct. He spoke on Wake Up With WURD Radio show, saying he was released from custody Tuesday morning after spending about 16 hours in jail.
"The video speaks for itself," Khalif said about his arrest. while noting he couldn't talk further about the specifics of the incident since charges were pending at the time.

Khalif said he plans to fight the charges he faces.

Khalif and other local activists have been protesting the shooting of David Jones for months. Jones, 30, was shot in the back and buttocks by Philadelphia Police officer Ryan Pownall following a struggle on June 8.
Jones later died from his injuries.
Surveillance video shows Jones running away as he is shot. He was stopped for riding a dirt bike on city streets, which is illegal, and police say he reached for a weapon during a scuffle with Pownall.
After an investigation, Philadelphia Police Commissioner Richard Ross announced in September that Pownall was suspended with intent to dismiss.
"There were serious policy violations that were committed — ones that were on video," Ross said during a news conference. "It's not even a question of what someone's perception was versus another's. I saw it. The shooting investigators saw it. And that's where it starts and stops."
Ross said Pownall's first attempt to shoot at Jones was justified under department policy, because it happened right after the struggle with a weapon.
Pownall's gun jammed, and as he fixed it, Jones dropped his gun and fled. He was at least 10 feet away and had his back turned to Pownall when he was shot, Ross said.
While Pownall was suspended, he has not been criminally charged. The Pennsylvania Attorney General's Office began investigating the shooting after it was referred to them from the Philadelphia District Attorney's Office.
Several groups have protested in the weeks following the shooting. In July, protesters marched on the Police Administration Building and City Hall demanding a larger investigation. In August, dozens of activists protested outside of Pownall's home in Northeast Philadelphia and called for his firing and arrest.
Philadelphia Fraternal Order of Police President John McNesby later referred to the activists outside Pownall's home as a "pack of rabid animals" and described the protesters as "racist hate groups determined to instigate violence." His comments drew criticism from both Khalif and Philadelphia Mayor Jim Kenney.
McNesby later responded that he never referred to a specific race in his remarks and had no idea what race the protesters were.