Our stretch of mild weather is coming to an end! Winter cold is blowing back into the entire region and this time it will be for an extended stay.

Winds are gusting to 30 mph Friday, making temperatures feel like they are in the 30s. Some flurries also fell Friday afternoon.
Then come Friday evening, we will see temperatures drop into the 30s with wind chills falling into the 20s.
Winds Friday evening won't let up much, gusts of more than 20 mph will be widespread.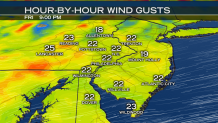 The temperature trend shows afternoons will be just a little warmer than normal Saturday and Sunday, before turning colder next week.
You'll still need the heavy jacket this weekend, though, as it will still be a bit breezy.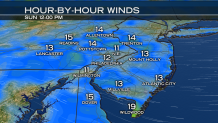 The entire region will be colder this weekend, but we will get to enjoy it without the threat of a winter storm. Both Saturday and Sunday will be partly sunny and dry.
---
Local
Breaking news and the stories that matter to your neighborhood.
The NBC10 First Alert Weather Team's forecasts are the most accurate in the Philadelphia area, says WeatherRate.com. The team brings 80 years of combined forecasting skill to NBC10 viewers.