Comedian Bill Cosby won't face sexual assault charges in a Pennsylvania courtroom next week as originally planned.
Cosby was initially due to appear in Montgomery County court on Jan. 14 for a preliminary hearing for charges stemming from an alleged attack at his suburban Philadelphia home 12 years ago.
But, the hearing was pushed back to a yet-determined future date on Wednesday, said the court.
The charges are the first criminal counts brought against Cosby among a torrent of allegations from dozens of women that destroyed his good-guy image as America's dad.
At an arraignment in a tiny Elkins Park magisterial court last week, Cosby's bail for the three felony aggravated indecent assault charges was set at $1 million. He immediately posted 10 percent, according to court documents.
"You're a monster," a protester screamed at Cosby, who carried a cane, as he was booked at Cheltenham Township Police Department after the arraignment.
Cosby was also required as a condition of his bail to surrender his passport.
Mobile readers: Watch Cosby walk to his arraignment here.
Attorneys for Cosby promised a "vigorous defense."
"Make no mistake, we intend to mount a vigorous defense against this unjustified charge and we expect that Mr. Cosby will be exonerated by a court of law," read the statement, which said the charges were filed "after a hotly-contested election for this county's DA."

The Montgomery County District Attorney's Office charged Cosby, 78, with three counts of aggravated indecent assault, including that Cosby assaulted his victim while she was unconscious and without consent, according to court documents.
"Upon examination of all of the evidence, today we are able to seek justice on behalf of Mr. Cosby's victim," said District Attorney Kevin Steele in the days before he took office.
Steele alleges that Cosby rendered former Temple University employee Andrea Constand "frozen, paralyzed, unable to move" by plying her with pills and wine, then penetrating her with his fingers when she was unconscious or unaware of what was happening. The alleged attack occurred at Cosby's home in the Philadelphia suburb of Cheltenham in early 2004.
The case comes after more than a year of mounting accusations against Cosby over his conduct with women, which his team has furiously denied. The Pennsylvania charges – filed days before the statute of limitations would have expired – set the stage for perhaps the biggest Hollywood celebrity trial so far this decade and could send the 78-year-old to prison in the twilight of his life and barrier-breaking career.
NBC10 Investigators reporter Harry Hairston was first to report that Cosby was expected to face criminal charges.
An attorney for Constand said last week that her client was "gratified with the overwhelming positive response to today's events," though she also wondered why the charges didn't come until "the eleventh hour."
NBC Owned Television Stations generally do not identify victims of alleged sexual assaults unless they agree to have their names published, as Constand has done.
The charge came down just days before the 12-year statute of limitations for bringing charges would have run out.
Source tell me bill Cosby to face criminal charges @NBCPhiladelphia @NBCNewYork @NBCNightlyNews

— Harry Hairston (@harryhairston) December 30, 2015
[NATL] Top News Photos: Pope Visits Japan, and More
The case adds to the towering list of legal problems facing the TV star, including defamation and sex-abuse lawsuits filed in Boston, Los Angeles and Pennsylvania.
Women mostly from the world of modeling, acting or other entertainment fields have described being offered a drink by Cosby and waking up to find they had apparently been sexually assaulted. Cosby, through his representatives, accused some of the women of trying to extract money from him or get ahead in show business.
Local
Breaking news and the stories that matter to your neighborhood.
But as for criminal charges, many of the alleged assaults date back decades, and the statute of limitations has expired in nearly every case.
Cosby and his representatives have previously repeatedly denied all allegations. Prior to this, he had never been charged with any crime regarding the allegations.
Cosby in 1965 became the first black actor to land a leading role in a network drama, "I Spy," and he went on to earn three straight Emmys. Over the next three decades, the Philadelphia-born comic created TV's animated "Fat Albert" and the top-rated "Cosby Show," the 1980s sitcom celebrated as groundbreaking television for its depiction of a warm and loving black family headed by two professionals — one a lawyer, the other a doctor.
He was a fatherly figure off camera as well, serving as a public moralist and public scold, urging young people to pull up their saggy pants and start acting responsibly in comments that were not always received warmly.
Constand's allegations and similar ones from other women in the years that followed did not receive wide attention until late 2014, after comedian Hannibal Buress mocked the moralizing Cosby as a hypocrite for moralizing about black youth when others called him a rapist and called him a rapist during a standup routine.
It's possible other Cosby accusers could testify if the case goes to trial, prominent Pennsylvania legal expert Wesley Oliver, director of the criminal justice program at Duquesne University and NBC News legal analyst, told NBC News.

Cosby accusers can testify to prove a "modus operandi," when crimes almost bear the defendant's signature because they're committed in such a similar way.
"The law generally prevents the prosecution from admitting a defendant's prior bad acts because we are afraid that juries will convict defendants because of something other than the crime for which he is being tried. But there are exceptions," Oliver said.
Laurie Levenson, a criminal law professor at Loyola Law School in Los Angeles, said Cosby no longer enjoys the celebrity appeal that might sway a jury.
"His reputation has already been tarnished, so I doubt that jurors would be inclined to believe him just because of his prior image," she said in September.
She said the judge in the case will have to decide whether to allow other accusers to testify or whether that would be too prejudicial.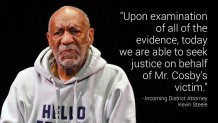 Copyright AP - Associated Press