Joseph Mancini grew tired of seeing plastic bags floating in the ocean and flapping stuck in trees and fences in his New Jersey shore town.
"Quite frankly, I was tired of seeing plastic bags stuck in trees, fences, on the water," he said. "People come down to Long Beach Township because it's a pristine environment."

So Mancini, mayor of the biggest town on Long Beach Island in Ocean County, decided last year to push for a bag ban. He and other township officials were successful.
Now, after a six-month grace period, a plastic bag ban went into effect May 1.
To help with the adjustment, about 20,000 reusable canvas bags are being handed out to households in Long Beach Township, which makes up roughly 11 miles of the 12-mile-long island in Ocean County. That's enough for two reusable bags for every home, Mayor Joe Mancini said.
The reusable bags cost the township less than a dollar a piece, Mancini said.
"We'll save that money just in litter pickup alone," he added.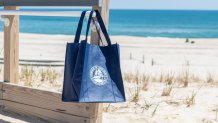 Plastic bags are no longer allowed at township businesses, except for a couple exceptions: fishing bait at tackle shops and marinas, and raw meat at groceries.
Local
Breaking news and the stories that matter to your neighborhood.
Mancini said the six-month lead-up was in part to allow stores in the township like Wawas and the Acme supermarket to use whatever plastic bags they had left in stock.
"Everybody is aboard: the Acme, the Wawas, the retail stores," Mancini said. "Everyone is working together."
If plastic bags are no longer handed out at commercial venues, the mayor believes "they should disappear at the beach."
Another New Jersey town, Longport, previously assigned a 10-cent per bag fee on single-use plastic bags, as NBC10 reported in 2015. It became the first in the state to enact a bag fee.
Plastic bags are a big contributor to ocean and river pollution. In the largest global example of the effects that plastic has on the environment, a recent study concluded that the infamous Great Pacific Garbage Patch is now twice the size of the state of Texas.
Source: The Ocean Cleanup
Credit: Sam Hart/NBC
Philadelphia, during former Mayor Michael Nutter's tenure, tried in 2009 to ban plastic bags from use in the city. But City Council ultimately voted down the measure.
Other efforts since then have failed in establishing a ban, and the Pennsylvania legislature last year approved a pre-emptive law banning such bans by local governments. Gov. Tom Wolf did veto the law.
More than 900 million plastic bags were distributed in Philadelphia in 2017, according to a Philly Voice story, which noted that several other local and state governments already have plastic bag bans.
California banned plastic bags in 2016. In Puerto Rico, lawmakers passed a ban in late 2015. An island-wide ban went into effect a year later.
In New York, some lawmakers, including the governor, began a push in April to ban plastic bags statewide.
Source: The Ocean Cleanup
Credit: Sam Hart/NBC