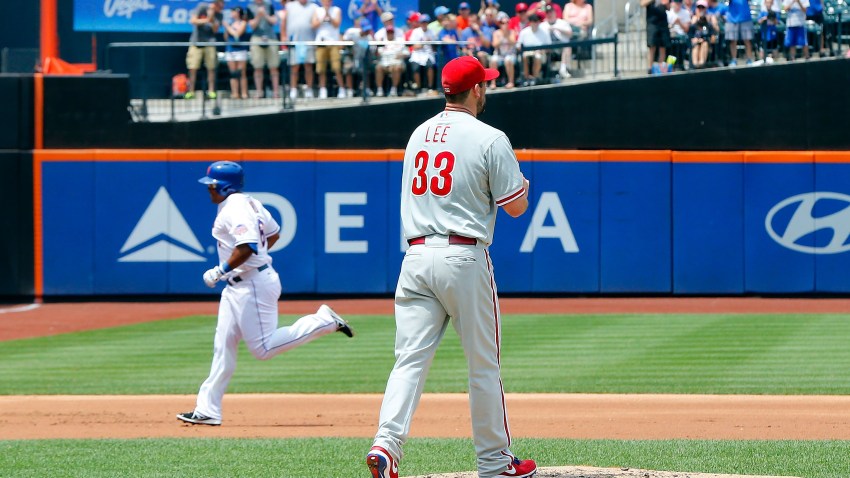 For much of the season, it was fairly apparent that things were not going well for the Phillies. They couldn't get much of anything going early on, and losses to key personnel like Roy Halladay, Mike Adams, Ryan Howard, and Ben Revere have only increased the pressure on the players who have been able to avoid the disabled list.

But for all their faults, the Phillies have managed to put together a decent run in the last few weeks, and they were able to wrap up the first half of the season with a .500 record and a not insurmountable 6.5 game gap between themselves and the division-leading Atlanta Braves. It's a longshot, but with a little bit of a luck and a hot start to the second half, the Phillies could put themselves in a position to be a legitimate contender in the division.

They didn't help themselves over the weekend, thanks to an underwhelming series against the New York Mets. Despite starting out strong with a 13-run outing and a win on Friday night, the Phillies stalled on Saturday due in part to a poor outing by Cole Hamels and ten men left on base. Typically, such a loss could be overlooked when you hand the ball off to Cliff Lee the next afternoon, but only if Lee is able to avoid the same pitfalls that sent Hamels to his 12th loss of the season. Unfortuntely, he allowed five earned runs in six innings of work, which was more than enough for Mets starter Matt Harvey to work with, as he and a relief pitcher handed the Phillies their 8th shutout of the season.

If the Phillies wanted to be considered a buyer when the trade deadline rolls around, it's incumbent upon them to start the second half as strongly as they ended the first half. And quite frankly, losing two of three to the lowly New York Mets doesn't fit into anyone's definition of "strong."

As such, the task at hand just got quite a bit harder, as they are heading into St. Louis to take on the National League Central-leading Cardinals. And, unlike in the Mets series, they aren't going to be sending their two best pitchers to do battle, either. They are going to have to rely on John Lannan, Jonathan Pettibone, and Kyle Kendrick to stymie perhaps the best offense in the National League.

It's not going to be an easy series, because it's going to rely on them to do something they aren't good at – winning on the road - against a team that has a .622 winning percentage at home. To boot, they are going to have to do it against some very tough pitchers. While they are fortunate enough to miss facing Cardinals Ace Adam Wainwright, they will have to deal with RHP Shelby Miller (2.92 ERA), veteran RHP Jake Westbrook (2.88), and RHP Lance Lynn (4.13). It's going to be an uphill battle, to say the least.

But, if Ruben Amaro is going to continue to insist that the Phillies are going to be buyers at the deadline, then sooner or later they are going to have to be above .500 for more than a day. Eventually, they'll need to start winning some games with consistency, otherwise the trade deadline will have come and gone, and they will have nothing to show for it.