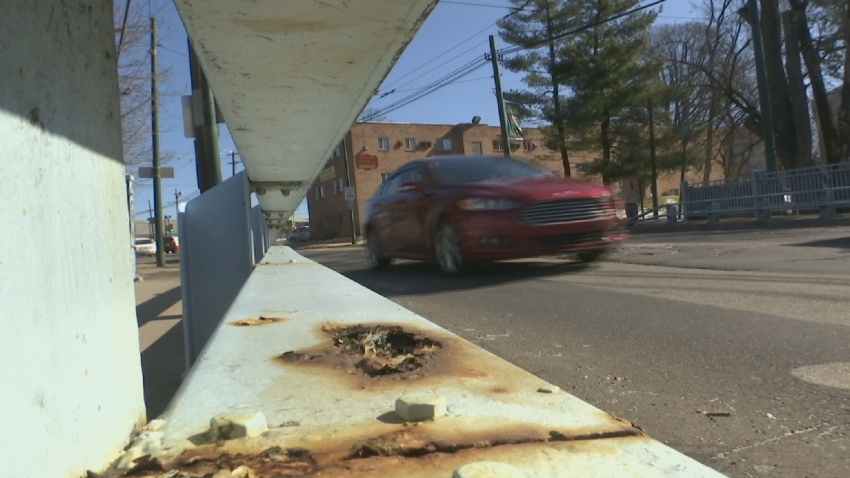 The NBC10 Investigators found Pennsylvania firefighters wasting valuable time driving extra miles to emergencies. The investigation found weight restricted bridges were standing in the way.
State inspection records show more than 1,000 closed or weight-restricted bridges across the commonwealth.
The NBC10 Investigators found many of these bridges near to or next firehouses.
Local
Breaking news and the stories that matter to your neighborhood.
In Sellersville, the fire department has to drive its heaviest truck nearly 6 minutes around a weight-restricted bridge to reach half the borough.
"It's ridiculous," Sellersville Fire President Bill Spaeth said. "The bridge should have been taken care of a long time ago."

Spaeth said he was concerned about reaching Sellersville Elementary School in an emergency. The school and fire house are separated by a weight-restricted and structurally deficient bridge.

"In a life-threatening situation 6 minutes is the difference between saving a life and not saving a life," Former Sellersville chief Harry McElhare said.
Sellersville's North Main Street bridge is not unique. At 75-years-old, it is the average age of the 22,680 bridges in the state according to PennDOT. Its rebar shows through disintegrated concrete. Pieces of its pock marked under side fell to the creek it covers long ago.
"We have the oldest bridges in the country," engineer Ann Tomalavage said. "We have the highest percentage of what we call structurally deficient bridges."
Tomalavage authored a report on behalf of the American Society of Civil Engineers regarding Pennsylvania's infrastructure. The report gave the state's bridges a "D+."
It says 23 percent of the commonwealth's bridges are "structurally deficient" — the highest in the nation.
"The average for the other states is in the single digits," Tomalavage said.

Structurally deficient bridges aren't necessarily dangerous unless there's too much weight on them so PennDOT puts restrictions on many.

In Sellersville, the North Main street bridge is on PennDOT's radar, but like so many bridges the state's report on this bridge says, "There is no funding for final design or construction" of a new bridge.

Statewide, PennDOT is throwing $900 million at the problem — but the NBC10 Investigators found that only fixes 558 of the more than 5,000 bridges with a major structural issue according to the state.
A PennDOT spokesman said the state has expanded its regular bridge repair and replacement program to focus on fixing structurally deficient bridges. According to PennDOT, that program has diminished the number of structurally deficient bridges by nearly 35 percent since 2009.
Sixty-three of the state's structurally deficient bridges are in Philadelphia: 115 are in Montgomery County and 122 are in Bucks County. The state's $900 million rapid bridge replacement project will fix five bridges in Montgomery County, one in Bucks County and zero in Philadelphia.
"That's because of the complexity," acting state Secretary of Transportation Leslie Richards said. "It doesn't mean Philadelphia is less important."

Richards said the state's bridges are in such bad shape, they need to fix as many as possible as quickly as possible.

"We're looking at bridges that can be fixed quickly," she said in an interview with the NBC10 Investigators.

State Senate Majority Leader Jake Corman helped pass the $900 million spending bill for bridge replacement.

"Any investment in infrastructure done wisely is a very good investment," Corman said. "It would be nice if our federal partners would jump in the pool with us and help out, but we didn't want to wait."

Secretary Richards said she plans to go to Washington to petition congress for more money to fix the state's roads and bridges.
Currently, the federal highway trust fund contributes $1.5 billion to Pennsylvania roads and bridges. That fund will run dry in May unless a new funding source is approved by the U.S. Congress.