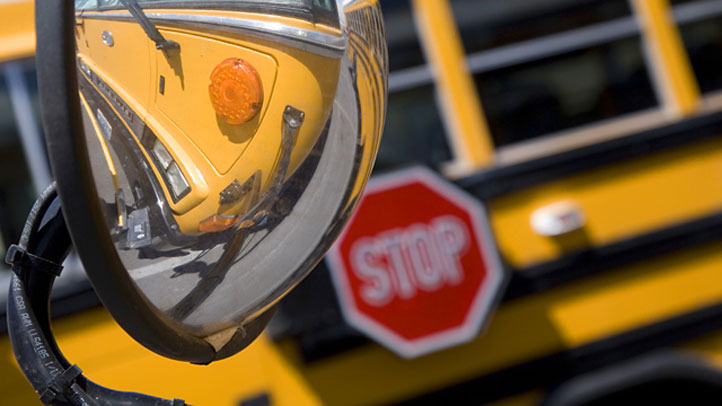 A rough holiday season could be ahead for hundreds of workers in Philadelphia that currently supply a vital service for Philadelphia kids.
School bus operator Atlantic Express Transportation Corporation plans to let go more than 500 workers at its Port Richmond facility effective at the end of the year.
Atlantic Express of Pennsylvania, Inc. supplies public and private charter bus services in and around the Philadelphia region including transporting thousands of students in the School District of Philadelphia. Late last month, the company posted a WARN notice that it would permanently lay off 518 workers from its location on Thompson Street as of Dec. 31.
The local corporation is part of the larger Atlantic Express Transportation Corporation, which last month filed for Chapter 11 bankruptcy protection.
In court papers, filed in federal court in New York, the nearly 40-year-old company lists millions of dollars in unpaid bills including disputed, contingent and unliquidated claims in excess of $13 million by AFL-CIO transit union employees.
Local
Breaking news and the stories that matter to your neighborhood.
On Monday, the New York-based company that operates in multiple states and is New York City's largest school bus operator, received word that the court approved its bankruptcy financing plan. According to NASDAQ, the $53.5 million in financing from Wells Fargo will help the company keep afloat as it looks to sell its assets -- if the company doesn't sell, it will be forced to liquidate.
The company hopes to avoid layoffs by having the New York City bus union accept a contract that is up for vote Wednesday night, according to Atlantic Express spokeswoman Carolyn Daly.
Daly says if the contract changes aren't approved then the liquidation will begin.
The national AFL-CIO didn't return calls for comment. However, a local union spokeswoman said the company is hoping to keep jobs in Philly.
What does it mean for Philly workers and school students if the company continues on the road to ruin?
Right now, pink slips continue to loom come Dec. 31, said Daly.
Daly said the company is committed to remaining in Philly where it has served customers for decades calling the city one of Atlantic Express' "most valuable" markets. But, because of the "burdensome" economic situation in New York, it might have no choice but to sell off parts of the company.
She said if the company does fold, the Philly wing of the business would be desirable to a new owner and that a serious buyer already has expressed interest.
The Philadelphia School District is hopeful any layoffs wouldn't cause a problem.
In a statement, district spokesman Fernando Gallard said the district "has monitored developments in the bankruptcy proceedings...and remains in contact with the local management team at Atlantic Express."
"The Atlantic Express team has offered assurances that services will continue under the terms of its contract with the School District," Gallard said. "We have also received assurances that any transfer of our contract to a new operator will take place subject to our existing approval rights.
"We are prepared to protect our rights but remain hopeful that will not prove necessary."
Atlantic Express' Thompson Street facility consists of multiple lots where literally hundreds of yellow buses can be seen from satellite images on Google Maps. As of Wednesday, a call to the company was still greeted with an automated message that allows people to book a bus, apply for a job, get accounts receivable and more options.
---
Contact Dan Stamm at 610-668-5565, daniel.stamm@nbcuni.com or follow @DanStamm on Twitter.