Police have identified and arrested a suspect in several mystery explosions across a rural part of upper Bucks County that confounded federal and local authorities for months.
David Surman Jr. was arrested at his home on the 2400 block of Old Bethlehem Pike in Milford Township Thursday. He is charged with weapons of mass destruction, recklessly endangering other people, possession of offensive weapons, possession of instruments of crime, possession of a controlled substance (methamphetamine) and possession of drug paraphernalia.
Officials executed search warrants at Surman's home as well as his business, Consolidated Chemicals and Solvents on the 2200 block of Spinnerstown Road in Milford Township. Investigators say they seized multiple explosive devices including a large bomb capable of mass destruction and chemicals that could be used to form bombs.
Bucks County District Attorney Matt Weintraub said all the seized material will be sent to a lab at the FBI facility in Quantico, Va.
In addition to the explosive devices, officials also say they found drawings in Surman's home. One pictured showed a swastika and homophobic remarks. Another picture showed cartoons of Surman and a woman who investigators identified as his girlfriend joking about setting off bombs.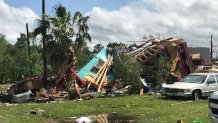 Surman's girlfriend was questioned but she has not been charged. Officials say she is cooperating with the investigation.
At this point investigators are unsure of Surman's motivation.
"I don't want to speculate because I think that we don't know all there is yet to know about this gentleman or what his motivation may be," Weintraub said.
Surman was arraigned and his bail was set at $750,000, 10 percent cash. He's scheduled for a preliminary hearing on July 10.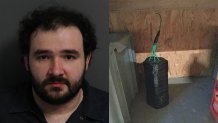 Since early April, a series of explosions left craters and rattled nerves throughout upper Bucks County and lower Lehigh County. Officials say 30 explosions occurred in a five mile radius of each other in Upper Bucks County near Surman's home and business.

NBC10 reporters at the scene of one of the search sites Thursday could see and hear huge detonations, which appeared to be explosives purposefully set off by investigators.
Hazmat crews, state troopers, ATF agents, FBI agents and other authorities could be seen at Surman's business on Spinnerstown Road around 9 a.m. Police and federal authorities could also be spotted around the same area going in and out of Surman's home about four miles away.

The Spinnerstown location remained an active hazmat site as of 1 p.m. Thursday while the other location was deemed safe a couple hours earlier.
Nockamixon Township resident Nick Zangli found a foot deep hole along Lonely Cottage Road shortly after hearing a blast at his home.
"That's not a natural hole," Zangli said in May tracing his fingers around the edge of the crater as he showed off a picture of it.
Most of the blasts were heard between 1 a.m. and 3:30 a.m.
"This is terrorism because everyone around here worries every night," Gary Rosenberger said earlier this month.
While investigators believe Surman was the person behind the bombings they are also asking the public to be careful and to still call 911 or 1-800-CALL-FBI Option 4 if they see anything suspicious.