An ambulance crashed while responding to a nearby double shooting in Burlington County, New Jersey, Tuesday morning.
The crash took place before 6 a.m. along U.S. Route 206, near James Avenue and Route 38, in Southampton Township.
Two people had been shot in a home along James Avenue around 5:30 a.m., New Jersey State Police said. Both people who taken to the hospital with undisclosed injuries.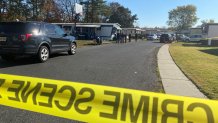 Only minor injuries were reported in the ambulance crash, which left Route 206 blocked, for a while during the morning commute.