A 1-year-old girl was found safe after police say the child's father shot another man in the leg in North Philadelphia Tuesday morning and then drove off with her, leading to an Amber Alert being issued.
Ronald White, 32, was driving with his daughter along the 1200 block of North 10th Street around 8 a.m. Police said White was supposed to drop the girl off at the home of her mother, whom he shares custody with.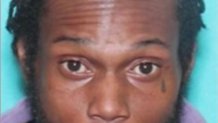 Officials told NBC10 there was some sort of altercation between White and a man inside another car. White allegedly pulled out a gun and opened fire at the car, striking the man in the leg.
The man drove himself to the hospital for treatment while White drove off with his daughter, police said.
An Amber Alert was then issued. Police later announced the girl was found safe with a relative around 2:25 p.m. She was taken to the hospital and then reunited with her family.
Police continue to search for White however. He was last seen driving a green 1998 Toyota.
A neighbor told NBC10 she heard the shots being fired Tuesday morning.
Local
Breaking news and the stories that matter to your neighborhood.
"It's sad that people use the baby as a pawn in this day and time," she said. "It's not fair. That baby is an innocent bystander."
If you have any information on White's whereabouts, please call Philadelphia police.