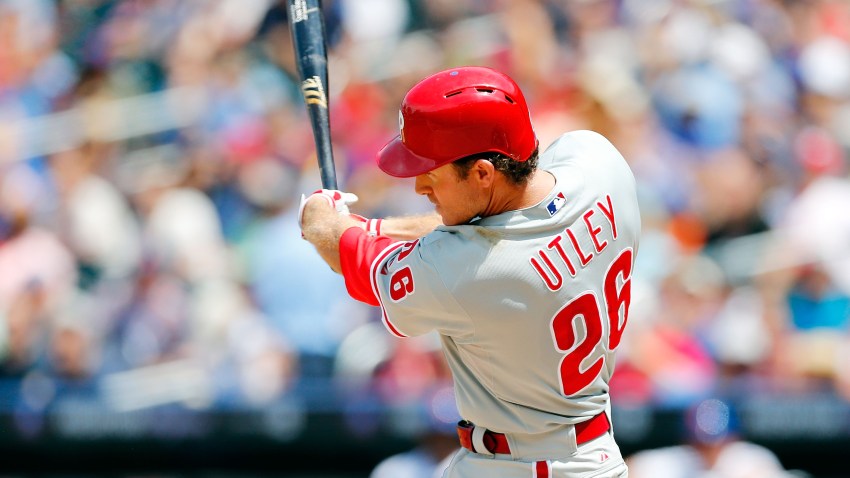 Over the next week or so, Phillies General Manager Ruben Amaro is going to have some tough decisions to make, as the under-.500 Phillies appear poised to be trade deadline sellers for the second straight season. While Amaro is remaining publicly confident that they could become buyers and make a run for the postseason, the writing is on the wall.

Fortunately, there is no shortage of players that can be traded, so they won't be left empty-handed when the time comes to eventually make some deals. While names like Michael Young and Carlos Ruiz and Jonathan Papelbon have been tossed about, their best trade chip is the one that will be most difficult to part with: Chase Utley.

We wrote a few weeks ago about how much value Utley has on the open market, as there are several contending teams who could certainly use the services of a second baseman. To boot, Utley should fetch a decent price on the market, so it makes perfect sense for Amaro to listen to offers for the life-long Phillies.

But that is where things get difficult. On one hand, Utley is having a tremendous year at a position that isn't terribly deep when it comes to offense. With the exception of St. Louis' Matt Carpenter, there is no better second baseman in the National League, and the argument can be made that Chase is among the best five second basemen in all of baseball. Losing Utley would create a huge void at second base, and one that isn't easily filled, unless they were to sign soon-to-be-free-agent Robinson Cano, who is set to cost a small fortune over several years.

On the other hand, they have a very good opportunity to begin to rebuild their team by trading Chase for prospects. The Phillies team that rolled through the N.L. for five consecutive years first started in the farm system, and the future success of the organization is going to depend heavily on minor league player development. Moving Utley for a pair of prospects could be the first step in putting the team back on track to their winning ways.

It's a very risky proposition, to be sure, because the choice needs to be made between trading one of the faces of the franchise - much to the derision of fans – for the benefit of the future, and between hanging onto him (and hopefully re-signing him) and hoping that he can stay healthy and productive over the next few years.

Which brings us to the next issue: his health. To be fair to Chase, his health really hasn't been an issue this season. True, he missed time with an oblique injury, but that's such a common occurrence among ballplayers that it hardly means he's been injury prone. The more pressing concern with him, however, are his knees that put him on the disabled list to start the 2011 and 2012 seasons. Thanks to a new training regimen and treatment, his knees have not been an issue this season, and his offense (.286/.344/.523 with seven HR) has not suffered in the least bit. However, a 34-year-old second baseman with recurring knee issues is the stuff of nightmares.

It's a really tough choice, but it's moot if the Phillies are unable to retain Utley following the season. Should they choose to not trade him, they need to work out an extension, lest they lose him to free agency. I can't read Utley's mind, but I get the impression that he'd like to keep his family in the area, but that desire only goes as far as the money. He's from California and he grew up a Dodgers fan, and they just happen to be a team that is flush with cash and not afraid to spend, so it can't be counted upon that he wouldn't seek a better offer in the off-season.

Ultimately, it's Ruben Amaro's decision to make, and it is not an easy task. As a life-long Phillies fan, I would want nothing more than to see Utley retire having spent his entire career in red pinstripes, but I realize that, from a business perspective, that might not be the best move. With a week to go until the non-waiver trading deadline, the Phillies have little time left to determine the future of Chase, and in doing so, the future of the Phillies.

For Ruben Amaro, there may be no right answer. But there are a lot of wrong ones.