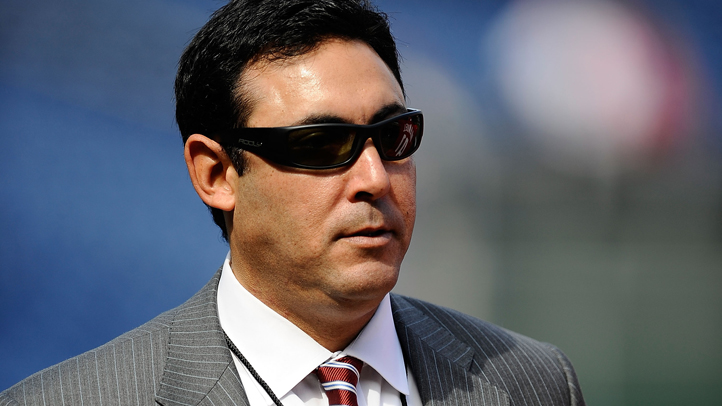 There was an interesting article published this weekend in the New York Times, where baseball writer Tyler Kepner spoke a bit about the Phillies, Ryne Sandberg, and Ruben Amaro's decision to dismiss Charlie Manuel. The most interesting part of the piece, though, was the revelation that the Phillies are going to be taking a more analytical approach in the front office.
The Phillies have been slow to adapt to the analytics revolution in baseball, seeming to overvalue statistics like saves and runs batted in. Now is the time to learn.

"We may be looking to fortify some of our information with some more statistical analysis," Amaro said. "We have to look at the way we do things and try to improve. That's our job, to try to get better every year. I'm not so stubborn that we can't try to do things a little bit different, or think that we can't make better decisions. That's what I'll challenge our people to do, and I think they understand that. That's part of what I expect of my staff, and of myself."


It's not exactly a philosophy that the Phillies, specifically General Manager Ruben Amaro, have kept hidden. While several of the team's moves in the past (the Ryan Howard extension, the Raul Ibanez signing, the Jonathan Papelbon signing, the Delmon Young signing, the Michael Young trade) obviously fly in the face of a team that is going with the flow of evolving the way they do business and build their roster, Amaro himself has declared a stance against joining the statistical revolution.

For Phillies fans, it's akin to being a parent trying to teach a child how to do basic addition and subtraction. It's a frustrating process, because it makes so much sense to you, but to the child, it's an entirely new and different concept, so watching them struggle with the fundamentals of such a thing is an unpleasant process. After all, you can't do the work for them - they have to learn it themselves.

And now, it appears that maybe Amaro and company are finally starting to learn. Maybe the last season and a half of struggling, coupled with the fact that the Atlanta Braves and Washington Nationals have bright futures, might have forced the Phillies to adjust their way of thinking. And with Charlie Manuel having taken the bullet for this season, Amaro is clearly in management's cross hairs.

If there is one silver lining to the Phillies missing the playoffs last year and (likely) this year, it's that an organizational shift could occur as the team works to dig itself out of a hole that it created. While some look at 2013 as a lost season fraught with disappointment, I look at it as an opportunity. An opportunity for the Phillies to be completely honest with themselves and change the way things get done.

Kepner didn't go into detail about Amaro's new approach, or if he even has a strategy, so that might just be lip service to appease his bosses. However, it certainly sounds like they are more open to jumping on board with the organizational philosophy that has allowed teams like the Oakland A's and the Tampa Bay Rays to continue to be competitive despite not having a lot of money to play with.

The one thing the Phillies have going for them is that they have a ton of money at their disposal, something that is not likely to change, especially if they are on the cusp of getting a new television deal. That, alone, gives them a significant advantage over the smaller market teams as far as luring in new players goes, but what money can't buy is smart management and the willingness to change the way you do business.

The statistical revolution isn't going away. What started with Moneyball a decade ago is evolving more and more every day as front offices scramble to find an edge in player development and evaluation. And as a fan of more in-depth statistics that better illustrate what value is, it's very nice to see that the Phillies front office might be coming around.
Local
Breaking news and the stories that matter to your neighborhood.
Also on NBC10.com:
Lee: "We're Grinding it Out More Under Sandberg