Sara Packer, the woman charged this weekend in her adoptive daughter's dismemberment, was fired by Northampton County in April 2010 from a supervisory role in the county's Children, Youth and Families divison, where she worked for more than seven years.
The county administrator cited "the seriousness of these allegations of misconduct" in a 2010 termination letter provided to NBC10.com, though the allegations themselves remain unclear.
Packer was arrested over the weekend and charged with criminal homicide, conspiracy-forcible rape, kidnapping and numerous other charges for her alleged role in the killing of her adopted daughter, Grace Packer. Jacob Sullivan, Sara Packer's live-in boyfriend, was also charged with criminal homicide, rape and other related charges for allegedly carrying out what authorities described as a gruesome rape and murder.
Both suspects are being held without bail in Bucks County.
Sara Packer's termination letter, dated April 15, 2010, indicated that Packer worked as a caseworker supervisor in the county Children, Youth and Family agency. It was provided to NBC10.com through a right-to-know request.
The exact reason for her termination was redacted by the county solicitor's office, which cited the reason for the redaction as "references to state agency investigations which are not subject to public disclosure."
Local
Breaking news and the stories that matter to your neighborhood.
County administrator Kevin Dolan wrote in the letter that Packer initially told him of what were eventually deemed fireable offenses on Jan. 20, 2010.
"Based on the seriousness of these allegations of misconduct, you were suspended without pay effective January 20, 2010, pending the completion of the investigation," Dolan wrote.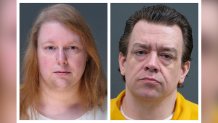 The letter goes on to note that the termination was based in part on documents Packer provided and that her "undisputed actions" violated the county's ethics and disciplinary employee codes.
Northampton County Controller Stephen Barron Jr. told NBC10 Philadelphia on Monday he is demanding those who work for the county take a good look into the case files Sara Packer worked on and supervised.
"She represents the worst of a children and youth worker," he said.
Another record provided to NBC10.com showed Packer's employment record with Northampton County.
She was hired Jan. 13, 2003 as a caseworker in Children, Youth and Family. Her starting salary was $26,621. Six months later, her probationary period ended.
In September 2005, she was given a raise and promotion.
In July 2007, she again received a promotion, this year to casework supervisor.
By December 2009, after 10 raises, Packer received a pay increase to $44,662 a year.
A month later, she was suspended without pay.
The record indicated "termination (involuntary)" on April 15, 2010.
Her firing occurred two months before a Lehigh County detective received a report of possible child sexual abuse by Sara Packer's then-husband, David Packer, according to a criminal affidavit filed in Lehigh County later that year.
David Packer eventually pleaded guilty to statutory sexual assault after authorities charged him with allegedly assaulting two underage children. The criminal affidavits in the cases indicated one victim was an adopted child of David Packer and another was his foster child.
Authorities have since said that Sara and David Packer fostered numerous children over a period stretching more than a decade.
Grace Packer, 14 years old when she disappeared in July of last year, was adopted along with her brother by the Packers in 2004. It remains unclear exactly how many children the Packers adopted. Grace and her brother were adopted in Berks County.
Grace's dismembered body was found Oct. 31 last year in a wooded area of Luzerne County by two hunters. Montgomery County authorities charged Sara Packer in November with obstruction of justice for allegedly hindering the investigation of her disappearance.
She was living in Abington when Grace reportedly disappeared, but moved to Quakertown in Bucks County with the boyfriend, Sullivan. Authorities allege that Sullivan beat, raped and murdered Grace Packer in the attic of the house in Quakertown while Sara Packer watched.
They allegedly stored the girl's body in cat litter for months before allegedly dumping her body in the woods.
Sullivan allegedly confessed last week in a Bucks County hospital after he and Sara Packer failed in a joint suicide attempt.
Packer and Sullivan didn't enter pleas when in court on Sunday and were denied bail; no attorney information was available for them.